The Shocking Amount The Simpsons House Would Be Worth IRL
It's well above the average cost of an American home.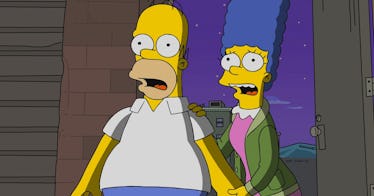 20th Television
So many of us have grown up watching The Simpsons. The show, which follows a typical American family, may seem silly on the surface. But the show is a deeper, satirical look at American culture. It's the longest running sitcom and so much of it is centered on the home they live in.
Ever wonder how much that home would sell for if it was a real home? Real estate agents wanted to find out, too, and the answer isn't what we expected.
A group of real estate agents from Garretts Realty analyzed the iconic home from the many episodes where it was featured on The Simpsons. They found that the two-story pink home on 742 Evergreen Terrace would go for a pretty penny in real life.
"Beautiful two-story home with basement. Through the arched, front door you are welcomed into the foyer. To the left is a cozy sitting room with a bay window, and to the right, is the dining room that also features a nice bay window," the fake listing reads.
The listing continues, describing the four bedrooms, the master en suite, and a full bathroom upstairs. "The backyard is surrounded by a wooden picket fence and a low box hedge," the listing continues. "Also, a patio and a custom treehouse!"
Taking into account the home's estimated square footage, the amenities nearby, and the town, Garretts Realty researched what homes of similar size and location were selling for in Springfield, Oregon, where The Simpsons is rumored to be based off of.
Courtesy of: Garretts Realty Group
"Determining how much the value of the Simpson home is a bit tricky," the reality states, "but after looking at the numbers and some of the notable features, the home sits somewhere in the ballpark of $449,900."
And that's a lot more expensive than we would have thought. According to Zillow, the average American home goes for $287,148 – and that's a 13 precent increase from the previous year. The pricey selling point of The Simpsons home follows the theory that Atlantic writer Dani Alexis Ryskamp touched on – that the average American couldn't afford the lifestyle the Simpson family does.
"The most famous dysfunctional family of 1990s television enjoyed, by today's standards, an almost dreamily secure existence that now seems out of reach for all too many Americans," she wrote in an essay published in December 2020. "When The Simpsons first aired, few would have predicted that Americans would eventually find the family's life out of reach. But for too many of us now, it is," she continued.
While we doubt that was what the series creator thought would happen in the time the show's been on the air. But it's on trend for the show's uncanny ability to predict the future.