Emilio Estevez Will Hit the Ice In a New 'Mighty Ducks' For Disney+
Because apparently, we're just reliving the '90s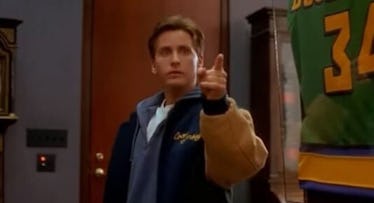 Credit: The Walt Disney Company
Quack, quack, quack, we have some good news. The beloved '90s hit movie The Mighty Ducks is getting a reboot—this time an episodic series on Disney+. Production has already begun, and the new show will premiere on the Disney streaming service later this year. Oh, and Emilio Estevez is hitting the ice all over again.
According to a Disney+ press release, the company is producing a new 10-episode show on The Mighty Ducks, and Emilio Estevez will be reprising his lead role as Coach Gordon Bombay.
"Once a Duck, always a Duck!," Estevez said. "After 25 years, I am delighted to lace up my skates, put on Coach Bombay's jacket and return to play the iconic character for this new chapter in 'The Mighty Ducks' franchise."
It was also announced that former Gilmore Girls star Lauren Graham is joining the cast, starring along Estevez as a mom of one of the boys on the Mighty Ducks hockey team. The new series will be set in present-day Minnesota and the Mighty Ducks team are no longer the "scrappy underdogs" and are now playing in a super competitive youth hockey league.
"After 12-year-old Evan (played by Brady Noon) is unceremoniously cut from the Ducks, he and his mom (played by Graham) set out to build their own ragtag team of misfits to challenge the cutthroat, win-at-all-costs culture of competitive youth sports."
With the news of this new Disney+ TV show, and the news that the company is also doing a theatrical movie release of a remake of Honey, I Shrunk the Kids, there is no question that TV and movies are having a nostalgic moment. Many of us who loved the original classics of the '80s and '90s now have our own kids who are around the same age we were when they first hit our screens. And there's a lot of magic in being able to see the characters and storylines we loved resonate with our kids too–with a little bit of a technology makeover.
It's interesting to see the surge in reboots and remakes and we're not at all mad that the Mighty Ducks are reassembling.