What The House Ban On Trans Athletes In Sports Really Means
The bill, called the "Protection of Women and Girls in Sports Act," was approved by a 219-203 party-line vote.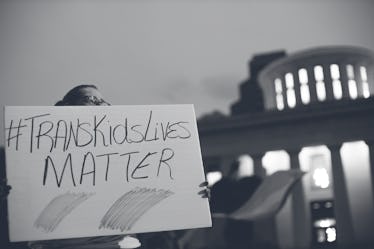 SOPA Images/LightRocket/Getty Images
On April 20, 2023, the House of Representatives voted to ban trans athletes from sports nationwide. Specifically, the bill, called the "Protection of Women and Girls in Sports Act," would prohibit recipients of federal funding from allowing a person "whose sex is male to participate in an athletic program or activity that is designated for women or girls." The bill, pushed through by House Republicans, was passed by a 219-203 party-line vote. It will move to the Senate, where it has vanishingly little chance of becoming law. President Biden has already signaled he would veto the law if it came across his desk.
Still, the nationwide ban is the latest move in the Republican party's onslaught on LGBTQ+ rights. Over the past year, dozens of bills have become state laws restricting trans kids from playing sports that match their gender identity or from being able to access gender-affirming care.
The new bill would amend civil rights legislation, Title IX, which "protects people from discrimination based on sex in education programs or activities that receive federal financial assistance." The new legislation would change the definition of sex in Title IX as being "based solely on a person's reproductive biology and genetics at birth." House Republicans say the updated policy is an attempt to "protect basic fairness," per ABC News.
"This is a great day for America and a great day for girls and women, and for fairness in sports," House Speaker Kevin McCarthy said outside the Capitol following the vote.
Opponents of the bill — lawmakers, medical professionals, and advocates — have criticized the law. House Minority Leader Hakeem Jeffries called out Republicans for "trying to sensationalize an issue that doesn't really exist in the way that they are falsely portraying."
"[This is about] extreme MAGA Republicans doing everything possible to jam their right-wing ideology down the throats of the American people," Jeffries added.
Rep. Pramila Jayapal pointed to statistics that indicate the harassment and danger trans youth are already facing — such as that 61% of trans youth report being bullied at school regularly — and the impact that a federal sports ban such as this would have on them. Indeed, surveys show that to reduce suicide risk, trans youth need support from their family, friends, and community — a reality that is stripped away from youth in states where their identity is legislated and limited.
"These bills tell some of the most vulnerable children in our country that they do not belong," Jayapal said. "Shame on you."
Sarah Kate Ellis, president, and CEO of GLAAD, the Gay and Lesbian Alliance Against Defamation, said House Republicans "should be ashamed of themselves" for putting trans kids in harm's way.
"Young transgender people should not have to watch lawmakers debate their basic humanity," Ellis continued. "Legislators must meet with transgender youth, their families, teammates, and coaches who would be harmed by this dangerous legislation; propose ways to protect all youth; and stop pushing anti-LGBTQ discrimination in a phony attempt to protect women and girls. Protect all kids and let them play."
Despite the absence of any conclusive scientific evidence indicating an inherent advantage for trans athletes over their cisgender counterparts, banning trans youth athletes from playing sports as their true gender continues to be a political messaging priority for Republicans. In some states where bans on trans youth playing sports have become law, there aren't even trans youth playing sports, or there have been no complaints at all about trans kids and how they play.
Last week, President Biden announced a new Title IX proposal that, if adopted, would prohibit schools that receive federal funding from imposing bans on trans youth participating in sports that align with their gender identity for kids in grade school. However, according to experts, the vague language in the proposal for older kids doesn't go far enough in protecting the rights of trans youth and leaves them open to discrimination.