COVID-19 Does Target Kids — In the Most Painful Way Possible
A new study has estimated that 140,000 kids have lost a primary or secondary caregiver due to COVID-19.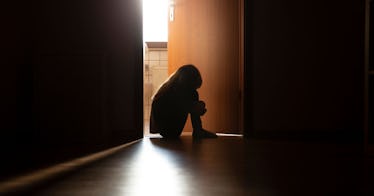 For every four COVID deaths in the U.S., a child loses a parent or caregiver, according to a new study in the journal Pediatrics. In total, more than 140,000 children have lost a primary or secondary caregiver during the COVID-19 pandemic.
In June, about 46,000 children had been confirmed to have lost a parent, meaning that nearly 100,000 more have been added to the total number of kids left without parental figures due to COVID.
Researchers conducted the study by using U.S. census data on mortality and fertility rates to estimate how many orphans COVID has created. The data suggests that between April 1, 2020, and the end of June in 2021, more than 140,000 kids under 18 "lost a parent, custodial grandparent, or grandparent caregiver who provided the child's home and basic needs, including love, security, and daily care."
About 120,000 lost a primary caregiver and 22,000 children lost a secondary caregiver to a "COVID-19 associated death." And about 1 in 500 kids have experienced "COVID-19-associated orphanhood."
"We often think of the impact of COVID-19 in terms of the number of lives claimed by the disease, but as this study shows, it is critical to also address the broader impact — both in terms of those who have died, and those who have been left behind," said Dr. Charles A. Nelson III, a behavioral development expert at Boston Children's Hospital and a co-author of the study. "We must ensure children who have lost a parent or caregiver have access to the support services they need."
Indeed, losing a parent as a child is a major destabilizing event. The trauma of losing a parent can put children at a higher risk of long-term mental and physical health problems, such as poorer educational outcomes, depression, and even suicide. Major investments in kids' mental health are needed after such trauma to counteract these risks.
The losses are worse when one considers that they happened largely in a socially isolated vacuum when kids weren't in in-person school and were isolated from friends, teachers, and extended family. Losing a parent can also make a family's hard financial situation even harder, leading to more stress for kids.
Unfortunately, and unsurprisingly, the researchers found that children from ethnic or racial minority groups were more likely to lose a parent.
They made up 65% of children who lost a caregiver during the pandemic, despite only making up 39% of the total population. Native American and Alaskan Native children were 4.5 times more likely to lose a parent or caregiver than white children. Black kids were 2.3 times more likely, and Hispanic children 1.8 times more likely to lose a caregiver.
The researchers also found geographical differences to the deaths. In New Mexico, Texas, and California — all states along the southern border of the United States — almost 70% of kids who lost a parent were Hispanic. In the deep South — Alabama, Louisiana, Mississippi — around half of the kids who lost a primary caregiver were Black. Anywhere from 18% to 55% of kids who lost a parent in South Dakota, New Mexico, Montana, Oklahoma and Arizona were Native American or Alaskan Native.