The $5000 Dollar A Night Disney Star Wars Hotel Will Close Forever— And Nobody Is Surprised
It was, perhaps, a good idea but the flaws were bigger than a two-meter wide exhaust port.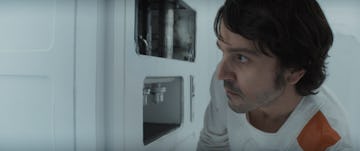 Disney/Lucasfilm
In a move that surprises no one, Disney World has announced it is officially shutting down the immersive Star Wars-themed hotel, Galactic Starcruiser.
Back in August 2021, Disney World revealed its plans to open the first fully immersive Star Wars experience at the park. And right from the start, there was a lot of discussion about whether this idea was as doomed as the Death Star. Most of the confusion, at first, centered around the fact that this immersive experience would be spent indoors — a fake spaceship inside a theme park where you'll be inside for two days.
But then, in March 2022, the first images of the Galactic Starcruiser were released, and the idea sounded cool — a luxury cruise liner in the Star Wars universe where the staff plays different characters, in full character, the entire time you're staying there. Plus, a whole "choose your own adventure" vibe to make it extra fun. However, pundits again realized that there weren't going to be any windows inside the rooms. So not only were you stuck indoors instead of outside enjoying the sunny, warm Florida weather, but the hotel room accidentally predicted those prison cells on Andor.
And then, the pricing structure dropped, and we all found out a one-night stay would run you $5000. That price tag essentially priced out any families who would want to experience the world of Star Wars in real life, and even adults who wanted a unique vacation sounded alarms that the price was far out of reach.
Bookings of the hotel slowed down, and people were worried about its success, but then an uptick in bookings came a few weeks later, and hopes were up. But ultimately, the Galactic Starcruiser was still struggling to meet expectations, and despite Disney putting more money into the hotel to find out why people weren't going, the experience is officially coming to an end.
In an update, Disney said the Galactic Starcruiser will come to a close at the end of September.
"We are so proud of all of the Cast Members and Imagineers who brought Star Wars: Galactic Starcruiser to life and look forward to delivering an excellent experience for Guests during the remaining voyages over the coming months," the update said.
"Thank you to our Guests and fans for making this experience so special." Special perhaps, but now, the experience of staying at the Galactic Starcruiser is also, very, very rare.
This article was originally published on