These Are 50 Best Bars In America For Summer Vacation 2023
This 2023 list is perfect for busy couples hitting the big cities.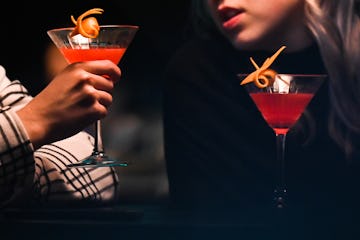 NurPhoto/NurPhoto/Getty Images
The seasons are changing, and as we head into summer, you might be doing some pre-planning for your next date night or a mini vacation to get away. For those just wanting to fantasize about elaborate cocktails or for folks putting together solid summer date plans, there's a new list of the 50 best bars in the U.S. that might help narrow down where you want to visit — whether the bars are in your city or a summer travel destination.
"North America's 50 Best Bars was launched in 2022 as a new annual list to celebrate the best of the region's drinks industry and shine a much-deserved spotlight on North America as a first-class cocktail destination," World's 50 Best says. While the list includes bars from all of North America, the U.S. dominates the list, comprising nearly half of the best bars on the list.
The winners are voted on by a group of 260 "gender-balanced anonymous bar industry experts, including bartenders, bar owners, drinks media, and well-traveled cocktail connoisseurs" from different parts of the continent.
"Each voter casts seven votes based on their best bar experiences of the previous 18 months," the voting rules state. Voters can vote for a maximum of five bars in their state or country. They also have the option to vote for two bars outside their state or country.
World's 50 Best says bars cannot apply to the list, and there are no nominations or external influences.
"There are no criteria that a bar has to meet," according to the voting rules, and "that every bar in the region is eligible, unless it is closed at the time that the list is announced, or we receive notice that it will be closing in the near future."
One of the interesting takeaways from the list of 50 best bars is if you're looking to go to one of these chart-topping bars, you'll basically have to travel to the biggest, most vacation-destination cities in America, from New York City to Mexico City, to New Orleans. Is Toronto your summer vacation destination? There's a bar for that. Chicago, Miami, or San Juan? Keep reading. As for the rest of us, well, these "best bars" in America might require a plane ride.
Here are the 50 best bars in North America:
Double Chicken Please, New York City
Handshake Speakeasy, Mexico City
Katana Kitten, New York City
Licorería Limantour, Mexico City
Jewel of the South, New Orleans
Dante, New York City
Overstory, New York City
Kumiko, Chicago
Café La Trova, Miami
Thunderbolt, Los Angeles
Zapote Bar, Playa del Carmen
Civil Liberties, Toronto
Attaboy, New York City
Employees Only, New York City
Bar Pompette, Toronto
Baltra Bar, Mexico City
Rayo, Mexico City
Mace, New York City
Botanist Bar, Vancouver
Hanky Panky, Mexico City
El Gallo Altanero, Guadalajara
Sabina Sabe, Oaxaca
Arca, Tulum
La Factoría, San Juan
Café de Nadie, Mexico City
Kaito del Valle, Mexico City
Herbs & Rye, Las Vegas
Pacific Cocktail Haven, San Francisco
Martiny's, New York City
Death & Co (Los Angeles), Los Angeles
Selva, Oaxaca
Atwater Cocktail Club, Montreal
Service Bar, Washington D.C.
Sweet Liberty, Miami
Cloakroom, Montreal
Cure, New Orleans
Mother, Toronto
Milk Room, Chicago
Maison Premiere, New York City
Aruba Day Drink, Tijuana
Bar Leather Apron, Honolulu
Yacht Club, Denver
Bar Mordercai, Toronto
The Dead Rabbit, New York City
Allegory, Washington D.C.
Clover Club, New York City
Brujas, Mexico City
Platform 18, Phoenix
Youngblood, San Diego
Milady's, New York City
To see more and dig into the data from the ranking, visit World's 50 Best.