Why Citrus Matters So Much In Cocktails — And How To Use It Right
Pay a bit of extra attention to how you treat the ingredient and you'll take your home bartending game to new heights.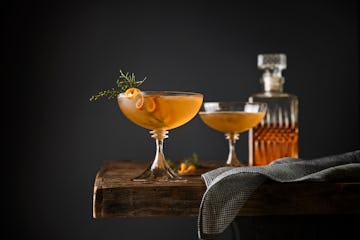 Getty
For any cocktails that involve citrus, using fresh citrus juice is the key to making them truly great. This rule is treated like gospel at any serious bar. But once you make the switch to fresh citrus, there's still many variables that will affect the taste and texture of the final cocktail. How you squeeze a fruit will affect the flavor of the juice, for example, and different types of citrus juices interact in different ways when you're mixing them together in the same drink. It's important to understand the flavor nuances and techniques for fresh citrus so you can make cocktails exactly the way you want them and remove the guesswork about why the Daiquiri you ordered at a bar may taste different from the one you made at home.
If you dabble in home bartending you've probably heard the rule that any cocktail requiring fresh juice should be shaken, not stirred. And in some cases, as with a Mojito, muddled. But these days, creative bartenders are taking citrus even further, with new techniques that can get more and different flavors from the same citrus fruits we know and love, and even create totally new textures and mouth feel for a cocktail.
At the most basic level, citrus is the perfect way to soften the rough edges of booze. "The acidity combats the bitterness of the ethanol," says Chenee Williams, a lead bartender at the Waldorf Astoria, Washington, D.C. Williams points out that fresh citrus adds more sweetness to a flavor profile, whereas bottled citrus will create a tart or bitter profile because of the additives needed to preserve shelf life. "Most popular cocktails have a form of citrus in them to sustain the balance of the drink," says Williams, referring to drinks like the Margarita, Cosmopolitan, Old fashioned, and Daiquiri. In all these cases, says Williams, "it would not be a balanced cocktail without the use of citrus and sugar."
Here are six expert tips for using citrus that will seriously level up your cocktails.
1. Fresh Means Fresh
"You want to make sure to use your juice within 24 hours," says Tiffany Nahm, a bartender at the iconic cocktail bar Death & Co. Citrus, Nahm explains, will, with time, l start to turn bitter and "lose its zing." The oxidation will also begin to change the color of the juice and therefore the color of your cocktail. "If you're putting in the work to juice your citrus fresh, your cocktail should be refreshing for your eyes, too!"
2. Use The Right Ratio
"Citrus and liquor have been put together in the same glass since the beginning of time," says Wyn Vida, Beverage Director at the Toshokan and The Cathedral in Austin, Texas. "Learning the correct proportions to achieve a specific flavor profile is the key to mastering the art of bartending," she says. Most of Vida's citrus cocktail builds follow the same model:
2 oz. liquor
1 oz. citrus
.5oz simple syrup
.25oz liqueur.
"Using this I can make anything from a Cosmo to a Margarita to a Gimlet––endless possibilities," she says.
3. The Peel Is Your Friend
"I often feel like one of the most overlooked and underutilized aspects of citrus is the peel," says Brandon Cummins, educator for the spirits company Altamar Brands. "Especially considering a majority of the essential oils and aromatic compounds that we associate with the flavor of different citrus are found almost entirely in the peels."
Because of the richness and depth of flavor derived from citrus peels, Cummins recommends hand juicing your citrus. What you get from that process is not just the expression of juice from the fruit, but also, he says, "the abrasion and release of the citrus oils from the peel." Doubt the process? Run an experiment: juice pre-peeled fruit alongside fruit with a peel. The two juices will, per Cummins, taste "significantly" different.
4. Try "The Regal Shake"
The Regal shake is a newer technique that is very simple to execute and adds a little bit extra punch and depth to citrus cocktails. You simply shake the cocktail with a spent (already juiced) lime or a cut lime peel. "By shaking with the peel, you're adding more of the essential oils, which add significantly to the mouthfeel, as well as greater complexity and a hint of bitterness to the drink," says Cummins, who recommends shaking grapefruit peel in a Daiquiri as a flavor variation. This, he says, produces "easily one of my favorite expressions of the Regal Shake."
5. Get Salty
Another simple but effective technique is to add a touch of saline solution in your citrus cocktails. Cummins says this works best with lower pH citrus like lime and lemon. The recipe for the solution is simple: 5 parts water to 1 part sea salt, and adding this will really "pop" the citrus flavor of the drink.
"This has to do with the interplay of salt on your palate, and the acidity of the citrus," says Cummins, "The perfect example is why salt on the rim of a Margarita became such a mainstay." But it's not just for Margaritas and Salty Dogs; salt can add unique flavors in even bitter stirred drinks, such as a Negroni. Try it. Seriously.
6. "Fluff" Your Juice
The idea of "fluffy" juice was widely popularized at the New York bar Dante, with their Garibaldi cocktail, according to Cummins. To do this, you froth the juice with a handheld milk frother – just like you would froth milk for a Cappuccino. This can also be done with a blender, but hand frothers are cheap and way easier to handle. The technique is about aerating the juice, which adds a lot of texture but also creates a different flavor experience on the palate, "making it more delicate," says Cummins.
4 Creative Cocktail Recipes That Show Off Citrus
1. The Regal Daquiri
This recipe utilizes the "Regal Shake" technique of shaking a cocktail with the peel for extra flavor dimension.
Ingredients
2 oz Probitas Rum
1 oz Fresh Lime Juice
¾ oz Simple Syrup
Two Large Grapefruit Zests (2in x 1in)
Directions
Add all ingredients to a cocktail shaker with ice, shake it like you mean it, then double strain it into a chilled coupe glass.
2. The Garibaldi Sunrise
In this "Garibaldi meets Tequila Sunrise" cocktail, Cummins recommends what he calls a "sunrise juice blend" to achieve the right balance of sweet and acid, which is 4:1 ratio of orange juice to lemon juice, and then use a frother to make it fluffy. "The acidity of the lemon really punches up the orange, and makes this a more balanced drink."
Ingredients
Directions
Start by building in a highball or Collins glass, add tequila, vermouth, and bitters. Then pour in your fluffy sunrise juice, and be sure to spoon some of the foam on top. "It looks awesome like this, but I do recommend giving a stir to integrate the flavors."
3. La Ultima Palabra
"This drink is a riff on the classic Last Word cocktail - one of my all-time favorite prohibition era drinks," says Wyn Vida. "Traditionally served with gin, the Tequila adds a sharpness and bite that I crave on a night out."
Add all ingredients to a shaker tin set, fill with ice, shake hard for 8 seconds. Double strain into a chilled couple using a Hawthorne strainer and a fine strainer. Garnish with a dehydrated pineapple slice.
4. The Dapper Dragon
This drink goes in an exotic direction with its choice of citrus and the more technical infusion for its Cardamom Tincture. The directions are a bit intense but the result is definitely worth it.
Ingredients
Directions
Combine all ingredients, except soda water, in a shaker. Shake well to combine. Pour over fresh ice and top with soda. Garnish with lime leaf and dragon fruit chip.
*To make the cardamom tincture: Combine 100 grams of vodka with 20 grams of cracked cardamom pods in an ISI. Charge twice with NO2, shake and let infuse for 10 minutes. Fine strain and place into dropper. (If you don't have an ISI, you can simply steep the vodka and cardamom at room temperature until the tincture absorbs the cardamom flavor)
**To make the coconut water syrup: Warm 6oz of coconut water and combine with 6oz sugar. Stir until dissolved (do not boil). Chill for use.