The 20 Most Popular Stories on Fatherly in 2021
What were Fatherly readers interested in this year? Stimulus checks, trivia questions and riddles, and parenting advice.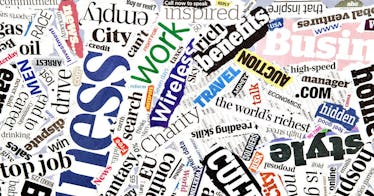 Sean Gladwell/Getty
Somehow, we've reached the end of 2021. And through this tumultuous year — from the lows and the highs of politics, public and personal life, and public health — we've all been reading, well, stories. Stories about our lives, stories about money, stories about how to be great parents and partners, weird stories about viral hacks on TikTok, and more.
But what stories have people been reading? Well, at least on Fatherly, it appears that even though people really wanted to read lots of hard news, like stories about stimulus checks and deodorant recalls, people also wanted to have fun and look at the sky. In other words, it was a year of readership that roughly parallelled the bizarro nature of 2021 itself. For a retrospective on what you, the Fatherly reader, couldn't get enough of this year, look no further.
For those who have kids who love to ask why, or for kids who think they know it all, parents were clearly brushing up on their trivia skills in order to stump their smart little ones.
Want to be a better spouse? Evict these six phrases from your vocabulary.
Sadly, the solar eclipse has come and passed, but for stargazers in late November, this was the story to read… even if it was a tough solar eclipse to catch for most of the world's residents.
This April story is almost a time capsule of vaccine efficacy and a look forward at boosters, which nearly all Americans are currently eligible to receive. Go get boosted!
A study examined the link between the use of e-cigs and the prevalence of erectile dysfunction, and people obviously wanted to know about it.
Want to know if your marriage is all that and a bag of chips? Look no further.
At a time when the movie theater was (and… is?) potentially a super-spreader event, readers were eager to know how they could see 'Black Widow' as soon as it hit Disney+.
This story proves that wrestling and roughhousing have no gender. But it also dives deep into why roughhousing is good for ids regardless of how they identify.
Before Senator Joe Manchin effectively put a wooden stake through the heart of the American Rescue Plan, the child care plan within it — for all of its flaws — offered a glimmer of hope at an America with a better social safety net. Alas.
Discipline is tough — and the popularity of this story shows that parents want to know how to better help their children learn and grow.
God, remember deliberations in Congress that led to something? This trip down memory lane is a nice reminder of the brief period when the government gave us money.
The IRS made tax mistakes in 2017, and some 1.3 million people stood to benefit in $1.3 billion — but unfortunately, the deadline for 2017 tax mistakes has passed.
New York City has Seinfeld, Colorado has Southpark, Nevada, Reno-911. Where does your state rank?
This life-changing hack went ultra-viral on our website, and for good reason. Did you know that you've been doing it wrong this entire time?
Once again: this was a year where parents were working for brain drain limiting activities. And riddles always deliver.
Jason Alexander referenced one of the best-ever episodes of 'Seinfeld' when Shatner revealed he was hitting the stratosphere.
For those looking for extra cash, this was clearly a great source…
One handy-dandy chart that showed how much families would get from stimulus checks, child tax credits, and more, in the American Rescue Plan. Better days!
In February, the world looked hopefully at the House Stimulus Package… and the speculation about a $1,400 stimulus began.
This story, published on the first day of December 2021, is still deeply relevant. Seriously, check your pits.