Grandma and Teen She Accidentally Texted Will Share Their 6th Thanksgiving Together This Year
If it feels like you've heard this story before, it's because their meal is an enduring tradition.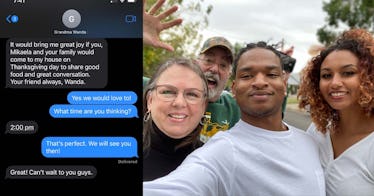 jamalhinton12/Twitter
Some time in 2016, Wanda Dench's grandson changed his phone number. He neglected to tell his grandmother about the change, as grandchildren do, so her text invitation to Thanksgiving dinner made its way to Jamal Hinton, the high school senior who'd inherited that number. Hinton didn't recognize the sender and asked for a photo to see who'd reached out. Dench sent him a selfie and he half-jokingly replied back "you not my grandma. Can I still get a plate tho?"
"Of course you can. That's what grandma's do …feed every one," Dench gamely replied. Hinton showed up, and the rest is history. The pair has reunited for every Thanksgiving dinner since, sharing the table with Dench's husband Lonnie and Hinton's girlfriend Mikaela.
They even managed to keep it going last year in a small, pre-Thanksgiving gathering that doubled as a memorial for Lonnie, who died of complications from COVID-19 in April of 2020.
This year marks the sixth time they will celebrate the holiday together, and the sixth time their story has garnered impressive attention on traditional and social media. The enduring friendship across generational and racial lines seems to resonate with people every time they hear about it.
"Jamal taught me that age made absolutely no difference," Dench told the Today show last year. I love all of my grandkids and kids, but we all are different generations, and we all reminisce about different things. But when Jamal came along, my husband and I and him and his girlfriend, we would go out to dinner throughout the year together and we would just lose all track of time."
"That's when it dawned on me that there doesn't have to be a generation gap to have friendships," she added. "So now I look at a lot of young people in a different light than I used to and I make it a point to talk and get to know them."