Why Your Thanksgiving Dinner Will Be The Most Expensive Ever Recorded
Along with high prices, grocery shortages could limit your celebration this year.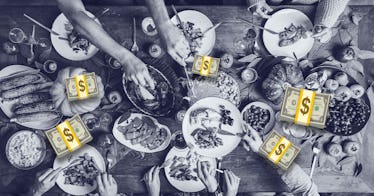 This year's Thanksgiving dinner is primed to be the most expensive on record thanks to increasing demand and limited supply. There's no single culprit, as it's been a slew of factors cultural, logistical, agricultural, and otherwise that have conspired to make nearly every component of the feast more expensive than it was last year, per the New York Times.
According to the Texas A&M Agrilife Extension, the average price of a whole turkey is $1.35 per pound this year, up from $1.14 last year. Butter, an essential ingredient in everything from stuffing to pie, is $3.568 per pound as of September, up from $3.325 last November per the St. Louis Fed. Many of the other items on your Thanksgiving table have seen similar increases. Here's why.
Hurricane Ida shut down sugar refineries in the South. The drought in California damaged crops from citrus to nuts to grapes, the latter making wine more expensive this year. A snap frost in July drove Brazilian coffee prices up. There are lots of examples of meteorology—specifically, let's be honest, climate change—limiting farms' output and making what they do produce more expensive.
China is also part of why your Thanksgiving dinner will be pricier this year. The country is limiting steel production to reduce carbon emissions (good!) but that means that the cans many Thanksgiving staples come in are more expensive to buy at your local grocery store. Cargo ships coming from the country are also making their way into the United States more slowly—73 days in September versus 40 days in September 2019—and at three times the cost, an increase that is eventually passed on to the consumer.
Compounding the sense that this year's dinner is wildly expensive is the fact that last years' was relatively cheap.
The average cost of a Thanksgiving dinner in 2020 was $46.90, the lowest since 2010. With the pandemic raging and no vaccines available, celebrations were pared down and grocery stores slashed prices in response to lower demand.
The Farm Bureau, the agricultural group that conducts the survey, specifically pointed to stores selling turkeys as "loss leaders"—cutting prices in order to entice shoppers into the store to buy other Thanksgiving ingredients.
But newly vaccinated families eager to go big after last year's muted holidays, demand is expected to be way up this year as supply falls. Anyone who took economics in high school can tell you that's a recipe for higher prices and, given that supply chain issues are partially to blame, potential shortages of key ingredients.
Consumers should be prepared to pay more for this year's celebration and potentially go without a favorite dish or two if the expected shortages do come to pass. And if you head to the grocery store this week and spot some cans of pumpkin, buying them a month early isn't the worst idea in the world.
This article was originally published on