Tesla Recall Affects 360,000 Cars — What To Know
The National Highway Traffic Safety Administration (NHTSA) announced a Tesla recall impacting more than 360,000 vehicles.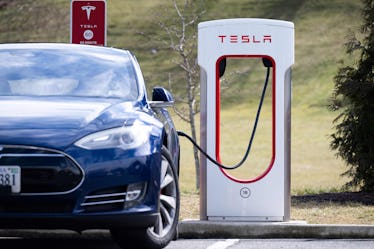 SAUL LOEB/AFP/Getty Images
On Feb. 15, the National Highway Traffic Safety Administration (NHTSA) and Tesla voluntarily recalled 360,000 vehicles that use the Full Self-Driving (FSD) Beta software. The recall, which requires a software update, comes after increased concerns about the safety of certain Tesla models due to the vehicle's FSD software.
Fatherly reached out to Tesla for official comment on the recall but did not hear back by press time. We will update this story if comment becomes available.
What's going on with the Tesla FSD software?
According to PBS, the NHTSA has been investigating Tesla's automated driving systems due to safety concerns since 2016. A separate investigation was launched in 2021 to look into Teslas that were reportedly using Autopilot and got into accidents with emergency vehicles. Nineteen people have reportedly died in crashes where "automated systems are suspected of being used."
The official Tesla recall came after a series of discussions between the NHTSA and the auto-maker and, though the NHTSA notes that Tesla doesn't agree with the agency's findings, the company agreed to recall the affected vehicles.
"The FSD Beta system may allow the vehicle to act unsafe around intersections, such as traveling straight through an intersection while in a turn-only lane, entering a stop sign-controlled intersection without coming to a complete stop, or proceeding into an intersection during a steady yellow traffic signal without due caution," the NHTSA said in its recall notice. Additionally, the cars might have trouble responding to posted speed limits or other drivers' adjustments to vehicle speed.
This recall does not mean the investigation has closed. The NHTSA told Consumer Reports in a statement that they "will continue to monitor the recall remedies for effectiveness. This recall seeks to address a specific set of concerns identified by the agency. It does not address the full scope of [the] NHTSA's … investigation. Accordingly, NHTSA's investigation into Tesla's Autopilot and associated vehicle systems remains open and active."
What is the Tesla FSD software and how do I know if I have it?
Per Techcrunch, Tesla's FSD software is a purchasable $15,000 upgrade or a monthly subscription from the vehicle's standard Autopilot feature. FSD offers several automated features, including Summon, the parking feature; Navigate, which navigates a car from the highway on-ramp to off-ramp and makes lane changes, the outlet explains.
The Autopilot feature, separate from FSD technology, offers features such as automatic braking for vehicles or pedestrians, collision alerts, blind spot monitoring, and cruise control.
Which Tesla models are being recalled?
According to the NHTSA notice, the recall includes "certain 2016-2023 Model S, Model X, 2017-2023 Model 3, and 2020-2023 Model Y vehicles equipped with Full Self-Driving Beta (FSD Beta) software or pending installation."
So if you've installed, bought, or subscribed to the FSD software, your Tesla is subject to a recall.
What do I do if I have one of the Tesla models impacted by the recall?
According to the NHTSA recall notice, Tesla will release a software update over the air that will update any impacted cars' software, which will be done free of charge. Tesla owners do not need to take their cars to any dealerships for this to happen.
If you have any questions, you can call Tesla at 877-798-3752. The recall number is SB-23-00-001. Owners should also receive letters from Tesla about the recall by mid-April of 2023. If you suspect your car is a part of the recall, but aren't sure, you can also log your vehicle's identification number on the NHTSA website.
Tesla owners should expect that the update to happen in the next few weeks.