This TMNT-Inspired Baby Name Is Trending — But It's Still Super Unique
Cowababy names for the best dudes and dudettes!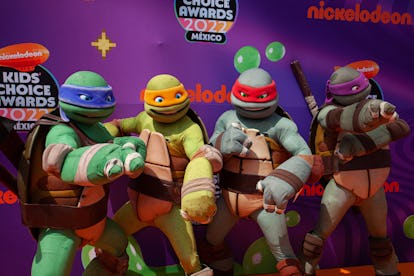 Pedro Mera/Getty Images Entertainment/Getty Images
We've seen some interesting baby names trending over the past few years from unique sources of inspiration. For example, celebrities have made it cool to name their kids after compass directions and fruit, (North and Apple, hope you're well!) but while it's not unusual to turn to TV, movies, or celeb-driven trends for baby name suggestions, there's a name that's in pop culture again due to the Teenage Mutant Ninja Turtles reboot — so would you name your kid after your favorite kid's show character?
According to the U.S. Social Security Administration (SSA), the boy name 'Leonardo' is on the upswing, and it has been for a long while. Some might choose the name because it's traditional, but you could choose to be inspired by the serious, disciplined, and honorable character who wears a blue bandana and wields two katanas. After all, the name Leonardo isn't new, but it's more popular than ever, but not too trendy that every other baby is named Leonardo.
The data from the SSA shows that in 2022, the name Leonardo was ranked as the 75th most popular baby boy's name, which is up from 87th the year before, 92nd in 2018, and 152nd a decade ago. But since it hasn't yet broken through the top 50 names, we still don't hear it too often — making it unique and trendy all at the same time.
But there is one baby name that's blowing up even further, and it's Leonardo's nickname. Leo, the short form for Leonardo, is ranked even higher: in 2022, it ranked as the 22nd most popular baby boy name in the United States, up from 50th in 2018 and up from 134th a decade ago.
According to Nameberry, Leonardo means "brave lion." It is a name that's been around for a long time but was pretty reserved. Nameberry explains Lonardo is mostly influenced by the "Italian Renaissance painter-scientist-inventor Leonardo da Vinci and was scarcely used outside the Latin culture." (Except for the turtles, bro!)
What about some of the other names inspired by the Teenage Mutant Ninja Turtles? Here are how they're ranking in popularity:
Michelangelo: Now here's a unique name. Michelangelo has never been in the top 1000 names for any year of birth beginning with 1940.
Raphael: This name is slightly more popular — the name ranked 483rd in 2022, which is up from 627 a decade ago. The alternate spelling, Rafael, was ranked 232 in 2022, up from 287 in 2012.
Donatello: Another totally under-the-radar name. This name has never been in the top 1000 names for any year of birth beginning with 1940.
April: For all you April O'Neal fans, the name is actually on the downswing — it ranked 530 in 2022, which is down from 396 a decade ago.
While these baby names may (or may not...) be influenced by pop culture, these "turtle power" names remain remarkably uncommon, making them an ideal choice for those looking to stand out in the sea of traditional monikers. Of course, with the new TMNT movie hitting theaters soon, next year, we might see these names ranked even higher.