Target's Annual Car Seat Trade-In Event is Back and It's a Real Budget Saving Hack
Our favorite trade-in program is back.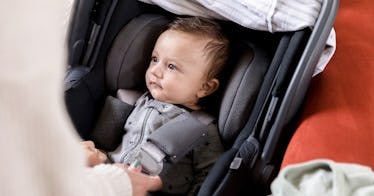 SDI Productions / Getty Images
The semi-annual Car Seat Trade-in program from Target is back. The program is one many parents look forward to because it's always the best way to upgrade baby equipment and do some good at the same time. Here's what you need to know.
Target's semi-annual Car Seat Trade-in program helps parents turn in expired or damaged car seats or car seats their kids have outgrown. It's great for parents key safety items for babies are expensive, and there aren't a lot of cost-saving opportunities around.
Between April 18 and April 30, parents can trade in their old car seats in exchange for a 20 percent off coupon that can be used on a variety of other baby-kid products, including a new car seat, a stroller, crib, and more.
To take part in the promotion, people can drop off their old car seat or car seat base into a box that's designated inside their local Target store. The program allows parents to drop off any type of car seat – including expired or damaged ones since they don't have to be usable to be eligible.
Afterward, parents can open the Target Circle App on their phone (which is free) to scan the code that's on the designated box in the Target store (or you can speak to an in-store employee if you don't have access to the Target Circle App).
By doing that, you'll find a new 20 percent coupon added to the wallet section of the Target app that you can use towards something new from the baby section in the store. The coupon can be redeemed through May 14, 2022.
"Materials from old car seats will be recycled by Target's partner, Waste Management," Target claims. Via their website, Target claims they've recycled 1.7 million car seats and 25.4 million pounds of car seat materials since 2016.
So, parents, mark your calendars for Monday, April 18, visit your local Target for more details.