Survey Shows Parents Really, Really Like Working From Home
It was hard to make it work, but now we don't want it to go.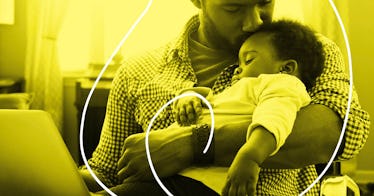 We have all had to make changes over the past year, and in no place has this been more uncomfortably felt than at work. While the transition to working from home was a catastrophic struggle, especially for moms, who dropped out of the workforce in scores – a new survey shows that most parents really (like, really really) like working from home now. Here's what we know.
According to a new Institute for Family Studies/Wheatley Institution survey by YouGov, the pandemic and the need to shift to remote work has impacted the workforce in major ways.
The survey, conducted between May 28 and June 10, 2021, where 2500 American adults ages 18-55 answered questions on the preference of working from home versus the office and how the pandemic may have changed things.
"More than half of parents with children under age 18 said that COVID-19 has made them more likely to prefer working from home either most of the time (33 percent) or half of the time (20 percent)," the report states.
It's been a challenging shift for some families having to juggle working from home and their kids doing remote schooling. And while it took a lot to make it all happen, many parents said the pandemic shifted some of their work preferences, and the shift actually held true regardless of gender.
Perhaps the preference now lies in the fact that many children are back at activities like summer camp and even school, and now parents can have some flexibility in their days from home. It's hard to say. But what is true is that moms and dads like it equally.
"Fathers (30 percent) were as likely as mothers (31 percent) to say that COVID19 changed their work preference," the survey shows.
Of the moms who said they would prefer to work in general, 53 percent said they would like to work from home most of the time, or half of the time, vs. working only from the office. And a significant driving factor of this shift comes from child care, too.
In the survey, parents report the best childcare arrangement for families with kids under four years old is when "both parents work flexible hours and share child care."
The pandemic and work shift also impacted parents' preferences regarding working full time, part-time, or not working. Both moms and dads report a new preference toward part-time work, but there are different preferences along class and education lines.
"College-educated mothers were much more likely than non-college-educated mothers to say COVID-19 has made them more likely to prefer part-time work (17 percent versus 11 percent)," the survey shows.
"On the other hand, COVID-19 also makes part-time work more appealing for non-college-educated fathers (15 percent) than college-educated fathers (5 percent)."
To sum it all up, parents have really appreciated the flexibility that working from home gives, especially when the workplace offers flexibility as well.