Preschoolers Had More Developmental Delays During the Pandemic, Study Shows
A new study shows that kids who entered preschool during the pandemic aren't meeting developmental expectations.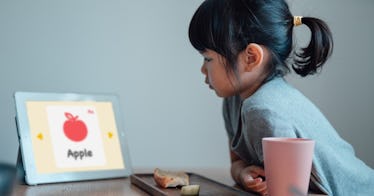 Oscar Wong / Getty Images
A new study out of Universidad de la República at Montevideo, Uruguay, provides evidence that the COVID-19 pandemic, including its associated school closures, is linked to developmental delay in preschoolers.
The research team compared two groups of children between the ages of 4 and 6. The first group, comprised of 34,355 children, attended preschool from 2018 to 2019, the year before the pandemic began. The second group, comprised of 30,158 children, attended preschool from 2019 to 2020, when school closures affected countries worldwide in the latter part of the school year.
To obtain the necessary data, teachers assessed individual students in the classroom. They made note of the number of times kids performed certain cognitive, motor, and socioemotional behaviors over the course of a normal school day.
The results show that children who attended preschool during the pandemic displayed delays in cognitive and behavioral development and showed differences in attitudes toward learning compared to the older cohort of children.
"Disasters and emergencies affect well-being in both adults and children. For young children, the consequences tend to be more relevant as they are in a critical period when developmental delays are more difficult to compensate for later," Alejandro Vásquez-Echeverría, study co-author and professor at the Universidad de la República and co-director of the Interdisciplinary Center of Cognition for Education and Learning (CICEA), told Fatherly.
"Our study was conducted in Uruguay, where school closures were relatively short, and the COVID-19 situation was controlled during 2020," Alejandro Vásquez-Echeverría said. "In this scenario, developmental losses (compared to the expected trajectory) were small to moderate. In countries where COVID-19 caused more impact and lockdowns lasted longer, probably the developmental losses were larger."
In light of these findings, Vásquez-Echeverría suggests parents try to take an active role in their preschoolers' education and development, and, most importantly, ask for help from the experts available to them. "Parents may consider it useful to get information and professional support on how to involve and interact with children in learning activities, enjoyable developmentally appropriate play, and involve children in diverse activities," he said.
Children who attended more affluent schools had less pronounced delays. "Relatedly, children who had already been struggling at age four classrooms displayed larger developmental losses, thus increasing the achievement gap," said Meliza Gonzalez, a researcher at the Universidad de la República, in a press release for the study. "This is particularly relevant to educational achievement since cognitive skills during the transition from preschool to primary school are predictors of later academic outcomes."
It's important to note that the data collected for the study did not include demographic information such as income, family status, and at-home learning parameters during the lockdown, which could skew the results.
The implications of these findings are vast and could influence policy decisions as the world moves into a COVID-endemic era. "The results allow us to better estimate the cost and benefits of measures such as lockdowns and school closures," Vásquez-Echeverría said. "Future policies may implement targeted interventions for at-risk children in the school setting."