Study Details the Biggest Ways the Pandemic Shaped Kids' Health
There were significant increases in depression and anxiety.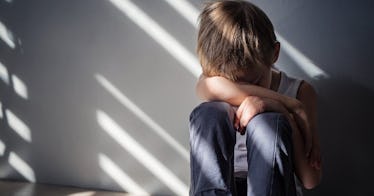 mrs/Getty
A new study from the U.S. Department of Health and Human Services, published in the journal JAMA Pediatrics, sheds startling light on the state of children's health and well-being, and much of it is not good news.
Examining data from 2016 through 2020 compiled by the National Survey of Children's Health (NSCH), researchers found that the start of the COVID-19 pandemic had dramatically adverse effects on a number of health and well-being indicators.
"The pandemic has been particularly difficult on our children, who have been as scared and confused as the rest of us were," said Department of Health and Human Services Secretary Xavier Becerra in a statement. "Today's study confirms what all too many of us know and feel in our daily lives: COVID-19 was an exceptional burden on the mental well-being of our nation's families, including kids. We will do everything we can to help provide our youngest ones with the resources they need to overcome the effects of this pandemic and thrive in the years to come."
Pre-pandemic youth mental health was already found to be declining, with diagnoses of anxiety and depression increasing by 29% and 27%, respectively. Anxiety increased from a prevalence of 7.1% to 9.2% from 2016 to 2020, and depression increased from 3.1% to 4.0%. Pandemic-era data has indicated that those numbers only increased as COVID spread, and fear and uncertainty spread alongside it, resulting in 5.6 million children with diagnosed anxiety and 2.4 million children diagnosed with depression in 2020 alone.
In the first year of the pandemic, data indicates a 21% increase in behavioral and conduct problems. However, researchers found no significant increase in mental or behavioral health care services — in 2020, at least 20% of children needing mental health services did not receive them.
The number of well-care doctor visits dropped by 8% between 2019 and 2020 as, presumably, people were encouraged to avoid doctor's offices and hospitals as COVID numbers swelled across the country. Parents also reported a 32% increase in unmet healthcare needs. Additionally, parents reported an almost 20% drop in their children's physical activity between 2016 and 2020, meaning the number of kids getting at least one hour of physical activity per day decreased.
The barriers to adequate healthcare also increased as a result of the pandemic. There was a 19% increase in the number of uninsured children and a decrease in the number of children with "adequate or continuous insurance."
Researchers found that between 2019 and 2020, the number of parents changing, declining, or quitting jobs due to lack of child care increased by 34%, which could account for lapses in insurance coverage for families.
One positive in 2020 was that the number of families facing financial hardship due to medical bills dropped a full 20%. It's unknown if this decrease was due to the fact that families were seeking medical care less often than in previous years or if the boost was due to pandemic financial aid.
"Study findings point to several areas of concern, including troubling trends that were evident before the pandemic and new challenges that arose in 2020," wrote the study authors. "This study adds to the growing literature pointing to an exacerbation of challenges brought on by the COVID-19 pandemic, highlighting the urgent need to ensure children's access to timely health care services, promote healthy behaviors, and support parents to strengthen family well-being."
The study's findings underscore points made by President Biden in his State of the Union Address earlier this month in favor of tackling the youth mental health crisis. "Our research highlights a critical need to support both children and their caregivers to improve families' mental and emotional well-being," Michael Warren, MD, Associate Administrator of the Health Resources and Services Administration's Maternal and Child Health Bureau and co-author of the study, said in a statement. "This includes ensuring access to timely health care services and addressing social determinants of health to support children and families' overall well-being."