Study: 2020 Newborns Will Face Seven Times More Heatwaves Than Boomers
Climate change is coming for our children. A new study shows what can change if we act.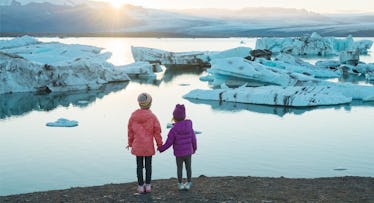 A new study has found that children born in 2020 will have a very different life from their grandparents when it comes to climate change — even under the most extreme climate mitigation scenarios.
In fact, per the study, newborns worldwide will face "seven times more scorching heatwaves during their lives than their grandparents," under current climate policy. They will also live through "2.6 times more droughts. 2.8 times as many river floods, almost three times as many crop failures, and twice the number of wildfires" as people born 60 years ago. That reality will be worse for children living in poor countries.
The study, from a research group out of Vrije Universiteit Brussel (VUB) in Belgium, was conducted by computing the lifetime exposure to climate change for every generation born between 1960 and 2020 worldwide. They calculated different global warming scenarios, from today's 1 degree Celsius to 3.5 degrees Celsius of total warming.
The team found that "at and above 1.5 degrees celsius" of global warming, kids will see a "lifetime exposure to heatwaves, crop failures, droughts, and river floods for people born after 1980 is unmatched by pre-industrial climate conditions."
Of the findings, lead researcher Professor Wim Thiery said, "this basically means that people younger than 40 today will live an unprecedented life even under the most stringent climate mitigation scenarios."
A 6-year-old in 2020 will experience two times as many wildfires and cyclones, three times more floods, four times more crop failures, five times more droughts, and 36 times more heatwaves if the world enters a 3-degree Celsius warming climate scenario. The study also found that under a 3.5-degree Celsius warming scenario, kids born in 2020 will experience 44 times more heatwaves.
As the study is global, it does account for regional differences. The main takeaway here is that kids in low-income countries will suffer the most under extreme climate change with a "fivefold" increase in exposure to climate change events. Over 100 million more children in Sub-Saharan Africa than in Europe and Asia will experience more extreme climate events.
It all sounds scary, but the report actually contains a glimmer of hope: Even though people under 40 can basically bet money that the lives they continue to lead will be inexorably changed by the warming climate, acting to limit the damage will make a huge difference in the quality of our lives for the better, especially for our children.
If the world acts drastically to limit warming to 1.5 degrees Celsius — (if we continue at our current trajectory of global warming, we will warm the planet by 4.5 degrees Celsius by 2100) — by cutting carbon emissions, reaching net-zero carbon emissions, using carbon capture technology and divesting from fossil fuels and utilizing renewable energy, we can still avoid some of the worst outcomes.
Limiting our warming to that degree would drop the lifetime exposure of newborns to heatwaves by 45 percent, droughts by 39 percent, river floods by 38 percent, crop failures by 28 percent, and wildfires by 10 percent compared to if we allow the plant to warm by 2.6 to 3.1 degrees Celsius above pre-industrial levels.
In other words, though the report is terrifying, it's best to use that fear and let it galvanize us to act for ourselves, and for our children. We still have plenty of time to fight to avoid the worst. But that time is dwindling.