Survey: Most Borrowers Say Financial Stability Relies On Loan Forgiveness
56% of respondents say their financial security will be at risk once the pandemic-era payment pause officially ends.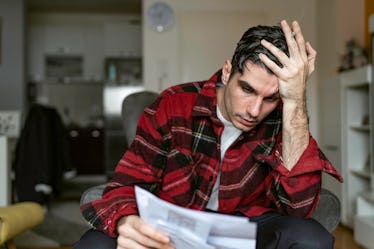 Gorica Poturak/E+/Getty Images
With the Supreme Court set to hear arguments this month to determine the legality of President Biden's student loan forgiveness plan, economic concerns are mounting for the millions of Americans with student loan debt who are hedging their bets on those loans being forgiven. A new survey finds that many of them are very concerned with their financial health if loans are not forgiven.
One in five American adults carries some amount of student loan debt, totaling a staggering $1.75 trillion in debt. In a new survey by by Credit Karma and Qualtrics, more than half of the 1,000+ respondents polled reported that they are concerned for their financial future.
Fifty-three percent of survey respondents told Credit Karma that their financial security depended on student loan forgiveness, and 56% said their financial security will be at risk when payments resume after the end of the pandemic payment pause, a program enacted in 2020 to pause student loan payments and interest accrual to deal with the financial insecurity of the pandemic.
Many Americans are struggling to afford basic necessities such as housing, utilities, and groceries as prices for everything from power and rent to milk and eggs have soared due to record inflation. Unsurprisingly, 26% of borrowers told Credit Karma that money they previously used for student loan payments has been reallocated to living expenses such as rent and utilities during the repayment pause. As a result, respondents were unable to increase their savings.
In August 2022, Biden announced his landmark legislation to forgive up to $10,000 in student loan debt per borrower and up to $20,000 for Pell Grant recipients for borrowers under certain income limits.
After months of legal wrangling and an indefinite pause to forgiveness application processing, the Supreme Court agreed to hear arguments by the end of February 2023, with a decision potentially coming in June. Biden also announced another extension to the payment pause, allowing consumers to hold on to their cash until at least 60 days after the SCOTUS decision or June 30, 2023, whichever comes first.