260+ Influential Orgs Beg For Student Loan Cancellation To Stick
Anything else "would result in chaos."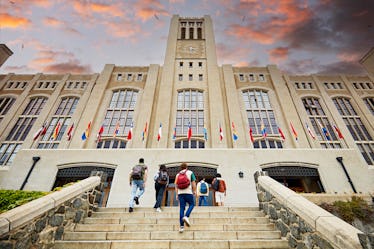 xavierarnau/E+/Getty Images
As tens of millions of Americans await the Supreme Court decision regarding student loan forgiveness, a coalition of 261 organizations penned a letter to members of Congress petitioning lawmakers. The letter urged them to renounce partisan efforts to permanently halt the Biden Administration's loan forgiveness plan and nullify four months of the pandemic student loan payment pause and waived interest.
Recently, GOP lawmakers discussed using the Congressional Review Act (CRA) — an obscure law that allows Congress to overturn laws set by government agencies typically not under their purview — to repeal a portion of the payment pause and reinstate already waived interest, putting millions of borrowers on the hook for payments they otherwise would not be.
Since its inception in 1996, the CRA, despite being put forward 200 times, has only been used successfully on 20 rules, 16 of which were during the Trump administration to overturn Obama-era rules.
The letter, addressed to the leaders of both the House and the Senate, and signed by 260+ organizations representing Americans across industries, faiths, and socioeconomic demographics, decries the GOP proposal as an attempt to "thwart the President's efforts to ease the financial pressure that so many are feeling" and would result in a "spike [in] delinquency and default rates for the most financially vulnerable."
"Advocates from across the country are clear: serious lawmakers cannot support this reckless, partisan proposal to automatically put tens of millions of people behind on their loan bills, reimpose billions of dollars of already waived interest charges on working families, and reinstate already canceled debts for teachers, nurses, and servicemembers," Mike Pierce, Executive Director of the Student Borrower Protection Center, said in a statement.
"Instead of offering their own vision for how to address America's student debt crisis, right-wing lawmakers are pulling a shameful, irresponsible, and desperate stunt," the statement continued.
Federal student loan payments have been paused since 2020, and are set to resume either 60 days after June 30 or 60 days after the Supreme Court publishes its decision in Biden vs. Nebraska, a court case set to determine whether the President's loan forgiveness plan is constitutional. The forgiveness plan has drawn Republican ire since it was announced last year and resulted in a number of lawsuits filed by GOP advocacy groups.
If Republicans are successful in using the CRA, four months of payments will become due, and interest for those months will be added to balances, resulting in surprise bills for millions of borrowers. Nearly 160,000 public service workers whose loans were canceled as part of the Public Service Loan Forgiveness and Income-Driven Repayment plans would also have their loans reinstated and block further reforms to the beleaguered PSLF and IDR programs.
"These CRA efforts would immediately force tens of millions of borrowers into abrupt and unplanned repayment with devastating effects, including adding thousands of dollars of payments and interest onto their loan balances. It would also force the U.S. Department of Education (ED) to unwind loans forgiven under Public Service Loan Forgiveness for nurses, educators, servicemembers, and hundreds of thousands of other public service workers across the country," wrote the coalition.
Currently, 48 Republican Senators and 88 Republican House members have signed on to the bill that would allow the CRA to move forward.
"It's a shame for students and working families across the country that Republican lawmakers, many of whom benefitted from hundreds of thousands of dollars in small business loan forgiveness, continue to fight hypocritically to deny critical student debt relief to millions of their own constituents," Education Secretary Miguel Cardona said in a statement.
"Let's get this straight: MAGA House Republicans are holding the economy hostage to prevent student debt relief from happening while making it easier for the rich to cheat on their taxes," the President said of GOP attempts to block forgiveness in a tweet last month. "Shows you whose side they're on."