How To Build Your Own DIY Baby Yoda From Legos
Has anything made of sharp plastic ever looked so cuddly?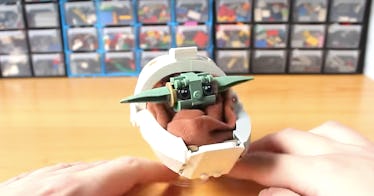 Credit: YouTube
The Mandalorian is a big hit for Disney+, largely because of the popularity of "The Child," better known by the malapropism Baby Yoda. It's the cutest, most memorable thing we've seen in a while, but the need to keep it a secret (Baby Yoda is revealed at the end of the first episode) meant Disney couldn't have Baby Yoda toys ready to go from day one.
The only Mandalorian Lego set is the AT-ST Raider from episode four, which sadly does not come with a Minifigure of "The Child." Thankfully, Reddit user u/hachiroku24 stepped in to fill the void with an impressive custom-designed and built Baby Yoda model (complete with a floating carriage!) that's so accurate that it's actually pretty damn cute.
Every piece is 100 percent unaltered Lego, even the cloth (from a posable Obi-Wan buildable figure released in 20TK) and Baby Yoda's signature ears (from a Goblin-themed set released in 2017).
Hachiroku24 also posted a video to YouTube showing the build process.
Reddit being Reddit, another user, u/00squirrel, modeled the build in Bricklink Studio, an online 3D modeling software for Lego designers. It also has Easy Buy, a feature that makes it simple to order all of the necessary pieces from Lego parts purveyors around the world, which definitely beats buying whole sets just for one or two esoteric pieces.
That's kind of pricey for a 123-piece set, for sure, but considering the DIY origins and lack of any kind of official Baby Yoda set, it's a great option for builders who just can't wait to bring "The Child" to life in brick form.
And once you have all of the necessary pieces, the software also has step-by-step building instructions that are as easy to follow as anything Lego has ever printed.