How to Watch the 'South Park' Coronavirus Comedy Special
The one-hour special will tackle COVID-19 in signature 'South Park' humor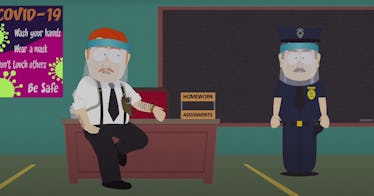 Comedy Central
South Park requires a particular sense of humor to laugh at situations that are often serious, but the showrunners, Matt Stone and Trey Parker, always have the best undertone messages behind the giggles. The long running Comedy Central show revealed it's airing a special supersized episode centered on one of this year's biggest themes in the country: the coronavirus pandemic.
South Park: The Pandemic Special is coming to Comedy Central
According to Deadline, The Pandemic Special will follow how the virus has impacted the fictional town in Colorado. The storyline focuses on Randy who has found himself as part of a booming pot market. H ealso has to come to terms with how he played a role in the COVID-19 outbreak that the whole town is now dealing with.
For Cartman, he's enrolled in remote learning and doing school in his pajamas, which sounds right up his alley, but the schools have decided it's time to re-open. This doesn't make Cartman too happy about having to return to the "slavery" of the classroom, and nothing is as it was before. Their desks are farther apart, they're shielded with plexiglass, and teachers have been replaced by cops.
And Kyle, the rule-follower and often the voice of reason, is stuck trying to encourage Cartman to listen to the physical distancing rules that are in place but he seems even more unreasonable to listening to authority of others than usual.
How to watch South Park: The Pandemic Special
Comedy Central has been the home for South Park since it first aired, but in a deal with ViacomCBS, the one-hour pandemic special will also be simulcast to MTV and MTV2, starting at 8pm ET. According to MLive, the episode can also be livestreamed via fubuTV, and there will be two encore airings of the episode at 9pm and 10pm on Wed., Sept. 30.
For those unable to watch the show live, or without the cable TV channels, the special pandemic episode will also become available on HBO Max, 24 hours after its premiere.
This one-hour special episode on the pandemic will be the first supersized episode in the show's long history. The button-pushing show co-created by Matt Stone and Trey Parker, debuted in 1997 and in that time, there's been 23 full seasons and a total of 307 episodes. No details have been released on its upcoming 24th season.
South Park: The Pandemic Special is set to air Wed., Sept. 30 at 8 pm EST.
This article was originally published on