Sylvie's 'Loki' Costume Was Designed to Make it Easier to Breastfeed
"It's little (big) things like this that made it possible for me to do my job AND be a parent."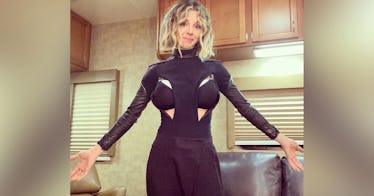 Edna Mode better watch her back, because there's a new superhero suit designer who is totally revolutionizing the game. Sophia Di Martino, who plays Sylvie (aka The Variant) on Loki, needed to breastfeed her newborn during the filming of the Disney+ show and she revealed that costume designer Christine Wanda went above and beyond in order to make her super suit breastfeeding-friendly.
"It's not easy being a working Mama (Understatement!) #christinewada designed Sylvie's costume and had the genius idea of adding concealed zippers for easy access so that I could use my @elvie pumps easily and nurse my baby between takes," Sophia wrote on Instagram.
Sophia also shared a photo of the costume with the concealed zipper, which worked perfectly for her to be able to breastfeed without having to take her entire costume off every time.
"It's little (big) things like this that made it possible for me to do my job AND be a parent," she wrote. "I'm forever grateful."
The post received overwhelming support from fans, with many giving Sophia credit for sharing and raising awareness for the difficulties that new mothers often face.
"This is so reassuring!" one user commented. "I've had a real mixed bag of support and the severe lack of it which has created almost a fear of telling casting/producers that I'm a new mum! But this is how it happens, thanks for sharing!"
Sophia welcomed her first child with partner Will Sharpe in 2019 and previously spoke about how she had to film her Loki audition because she was pregnant at the time.
"I did an audition tape with a very short scene. I wasn't asked to do it again, and I couldn't meet anyone because I was heavily pregnant at the time and I couldn't travel," she told Variety.
But the unconventional audition didn't keep her from landing the role and some brilliant costume designing from Christine Wanda made sure that her experience onset was a positive one.
Loki airs new episodes weekly on Wednesdays on Disney+.