The PURE Healthy Diet May Lower Risk Of Death By 30%
Want to prevent heart disease? Check out this ultra heart-healthy diet.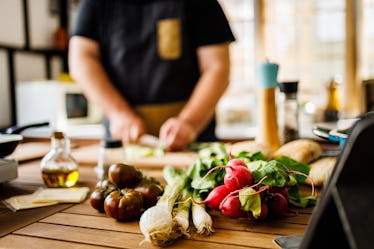 chabybucko/E+/Getty Images
It might be time to rethink your diet if you want to lower your risk of developing cardiovascular disease (CVD). According to a new study, to maximize the benefits of a heart-healthy diet, it's important to eat six specific foods in conjunction with one another. And protecting against cardiovascular disease is extremely important because, according to World Health Organization data, 32% of the 18 million deaths recorded globally in 2019 were caused by CVD; of those, 85% were due to stroke or heart attack.
The new study, published in the European Heart Journal, finds that adding fruits, vegetables, legumes, nuts, fish, and whole-fat dairy products to your diet is the best way to lower your risk of cardiovascular disease. The research team found that people who ate from all six groups were healthier than those who cherry-picked from just a few groups or who eschewed those types of foods altogether.
To determine the best diet practices for protecting against CVD, researchers from McMaster University and Hamilton Health Sciences at the Population Research Health Institute (PHRI) analyzed data collected from 245,000 people from 80 countries, with the participants followed for a median of 9.3 years, to determine the effect of diet on mortality and cardiovascular disease globally. They assigned diet scores based on PHRI's Prospective Urban and Rural Epidemiological (PURE) scoring system.
"Previous diet scores – including the EAT-Lancet Planetary Diet and the Mediterranean Diet tested the relationship of diet to CVD and death mainly in Western countries. The PURE Healthy Diet Score included a good representation of high, middle, and low-income countries," said senior author and PURE investigator Salim Yusuf.
Compared to people who scored 1 point or less in the PURE diet, those who scored 5 or higher had a 30% lower risk of mortality during the follow-up period and 18% lower risk of cardiovascular disease, 14% lower risk of heart attack, and 19% lower risk of stroke.
Unlike other heart-healthy diets, the PURE diet recommends moderation in the consumption of heart-protective foods. Instead of eating these foods at every meal, researchers recommend two to three servings of fruits and veggies, one serving of nuts, and two servings of dairy per day. They also recommend three to four servings of legumes and two to three servings of fish per week. One serving of whole grains and unprocessed red meat or chicken daily is also acceptable.
"There is a recent increased focus on higher consumption of protective foods for disease prevention. Outside of larger amounts of fruits, vegetables, nuts, and legumes, the researchers showed that moderation is key in the consumption of natural foods," said lead author Andrew Mente.
"Moderate amounts of fish and whole-fat dairy are associated with a lower risk of CVD and mortality. The same health outcomes can be achieved with moderate consumption of grains and meats – as long as they are unrefined whole grains and unprocessed meats."
This study adds to an existing body of research examining the positive effects of certain foods on overall health and longevity. Recently, the Dietary Approaches to Stop Hypertension, or DASH diet, has gained notoriety for its positive impact on heart health. Last month, the American Heart Association ranked several diets according to their dietary recommendations, and the DASH diet made top marks. The DASH diet is similar to the PURE diet, although it recommends low- or non-fat dairy instead of whole-fat dairy and restricts sodium, added sugar, certain oils, alcohol, and all processed foods.