This Map Shows The Best And Worst Cities For Single Dads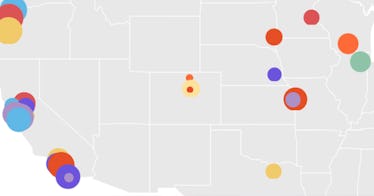 LawnStarter
If there's something that the pandemic has taught us, having a good work/home balance and access to community supports is a huge help. We've had to navigate a lot this year as parents, including jobs coming and going, kids being in and out of school, and public health recommendations to keep us all safe.
And a big lesson learned is that not all states are willing to step in and help when it's really necessary – and not all cities are ideal for raising a family. A new survey highlights the best and worst cities in the United States for single dads. And there's one that really needs to get it together. Here's what we know.
In time for Father's Day, LawnStarter wanted to find out which cities in the U.S. are best and which are worst for "single-dad friendliness." The data collectors looked at the 200 biggest cities and ranked them from best to worst based on 34 factors that indicate how to set up they are – or aren't – for single dads.
"What makes a city suitable for solo dads and their children?" the site asked. "Affordable housing and child care, world-class hospitals and schools, and strong public programs are among the most important factors. Even a short commute goes a long way." And those markers are what the researchers used to rank the cities against each other – and there are some doing really well and others not so much.
The 5 Best Cities for Single Dads
Boston, Massachussetts
Salem, Oregon
Eugene, Oregon
Portland, Oregon
Fremont, California
Looking at all the data and weighting, LawnStarter determines Boston, MA, is the best city for raising kids as a single dad, with a total score of 58.28 out of a possible 100.
The 5 Worst Cities for Single Dads
The list of worst cities starts from the worst city (Detroit) and ends at the 5-th worst city (Mesquite.)
Detroit, Michigan
Brownsville, Texas
Hialeah, Florida
Norfolk, Virginia
Mesquite, Texas
On the other side, Detroit, MI., (30.35) and Brownsville, TX., (30.84) rank as the worst cities for single dads.
Looking further into the results, Toledo, OH., has the highest share of single-dad households while Naperville, IL., has the lowest. Five cities in Texas ranked lowest for hourly babysitting cost. In comparison, five cities in California ranked highest hourly fee for babysitting.
There is one state that stands out as really needing to get it together – Texas, as well as one region that couldn't be better for single dads.
The data LawnStarter collected shows that life in Texas can be really challenging for a single dad. Many of the cities in Texas found themselves at the bottom of the 200 lists. Brownsville hit at 199, Houston at 191, El Paso at 181. "Even the overall highest-ranking Texas cities, Frisco at 35 and Plano at 75, finish well behind the leaders of the pack.
Meanwhile, the west coast seems to be crushing it. Seven out of 10 of the top spots on the best cities for single dads were either in Washington State or California, and just three were in Massachusetts. While there are cities in nearly every state represented on the map, it's clear that if you want to have fun as a single dad, Washington State and Oregon are probably really safe bets.
"For peace of mind, it helps to bring up your family in a city where single fathers receive maximum support from their community," LawnStarter reports. So, it might be time to pack up and move to Boston.
This article was originally published on