More Similac Baby Formula Has Been Recalled After an Infant Death — What to Know
An infant has died after exposed to the powdered baby formula linked to a Michigan facility.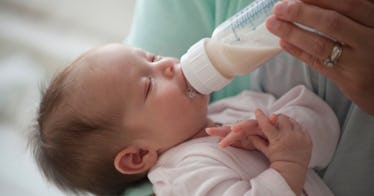 Jose Luis Pelaez Inc / Getty Images
Abbott Nutrition has recalled another powdered baby formula after an additional report of an infant death has been linked to its use. This new recall comes on the heel of an ongoing investigation by The U.S. Food and Drug Administration (FDA) and The Centers for Disease Control and Prevention (CDC) related to Abbott's facility in Sturgis, Michigan. Here's what you need to know.
What baby formula has been recalled?
Abbott Nutrition has issued a recall on Monday, February 28 for its Similac PM 60/40 powdered infant formula. The product is manufactured in the Abbott facility in Sturgis, Michigan, which has been under investigation following complaints about bacterial infections in babies who consumed the products.
The recall is of Similac PM 60/40 products that were distributed to the United States and Israel, according to the FDA.
Why has it been recalled?
According to the FDA, another child death has been potentially linked to Cronobacter sakazakii infection after consuming the powdered formula, Similac PM 60/40 before getting ill and dying.
The agency said the infection "may have been a contributing cause of death" for the child and Abbott Nutrition has recalled the product out of caution. The company recalled the powdered formula with the lot code 27032K800.
According to CNN, the company states "no distributed product has tested positive for the presence of Cronobacter sakazakii."
What should parents do if they have the recalled product?
The FDA is advising parents don't use recalled Similac, Alimentum, or EleCare powdered infant formulas. The formulas included in the recall can be identified by the expiration date and 7-to-9 digit code.
Products are included in the recall if they have all three items below:
the first two digits of the code are 22 through 37 and
the code on the container contains K8, SH, or Z2, and
the expiration date is 4-1-2022 (APR 2022) or later.
"We want to reassure the public that we're working diligently with our partners to investigate complaints related to these products, which we recognize include infant formula produced at this facility, while we work to resolve this safety concern as quickly as possible," FDA Deputy Commissioner for Food Policy and Response Frank Yiannas said in the news release.
Signs of infection from Cronobacter sakazakii bacteria
According to the Centers for Disease Control and Prevention, cronobacter infections are not common, however, the infection can be deadly in infants.
"Cronobacter can cause diarrhea and urinary tract infections in people of all ages, but infection can be very serious in infants," the CDC explains. The first symptom of potential infection from the bacteria often begins with a fever and low energy. It can lead to dangerous blood infections or meningitis which can be deadly.