The Best Short Movie on Disney+ Just Won a Huge Award
Here's why you should watch 'Loop,' a short you may never have heard of.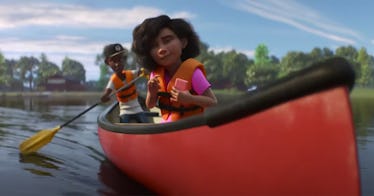 Disney+
In early January of 2020 — a time that, while only eight months ago, feels as if it happened in another era — Pixar dropped a short film on Disney+ called Loop. That short film went under the radar compared to other shorts like Kitbull and Float, which received accolades and widespread press coverage. But even if that was the case, Loop is a short film that deserves a second look — especially after the news that it won a prestigious award earlier this week. The short film, about a 13-year-old girl with autism who is nonverbal, won the "Best in Show" award at the SIGGRAPH 2020 Computer Animation Festival.
The film was produced as a part of Disney and Pixar's push through their SPARKSHORTS program to produce and distribute indie short films. That's where Kitbull came from, as well. But the film is different in that it takes on a perspective that no other Disney or Pixar film has before: that of a girl who has autism, and who is non-verbal. The film explores the main character, Renee's inner world as she's paired to canoe with Marcus, a teenager who is basically the opposite of her and is extremely chatty and talkative. The two teens canoe and bond as Renee accidentally loses her phone in the lake which she uses to play ringtones to soothe her. It's a short film, it's simple, and it's sweet, but the most important part of it is how it was made.
RELATED: EVERYTHING YOU NEED TO KNOW ABOUT SIGNING UP FOR DISNEY+
The director of the film, Erica Milsom, was deeply concerned with writing a story of a character with autism that is true to life. Renee was voiced by Morgan Brandy, who has autism, and she worked with consultants at the Autistic Self Advocacy Network to make sure that her characterization of Renee was accurate and empowering. But she also wanted to portray Renee's sensory experience as something potentially beautiful, not negative or overwhelming.
"I'd noticed in films I'd seen about autism that their sensory experience is so often displayed negatively. I got really excited by the positive potential in it. So many of us try to hide what we feel and shove those feelings down. In 'Loop,' I love how you can see what Renee is going through, and we tried to display that in a scene where she and Marcus are touching the reeds. It's a wonderful thing when you can experience the positive side of that sensory difference and bring out the soft side in a teenage boy," she said. But the attention to detail didn't just stop there. Other crew members worked hard to adopt visual cues for Renee that included sensitivity to light and color, squinting when overwhelmed, and sensory experiences being both pleasurable and potentially overwhelming.
There's a reason the film won an award, and for parents who have kids ho either do or don't have autism, the film is a wonderful look into the inner world of teens who have it.
'Loop' is available to stream on Disney+.
This article was originally published on