Scarjo Hilariously Just Ruined a Christmas Tradition For Her Seven-Year-Old
She's not the first, and she won't be the last.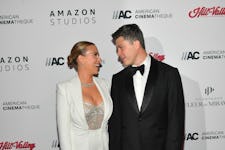 Variety/Penske Media/Getty Images
This time of year is full of magic for our kids. But as parents, it's not always easy to keep that magic alive. We have to watch what we say, hoping we don't ruin the holiday spirit. And, unfortunately, Scarlett Johansson ruined a Christmas tradition for her seven-year-old daughter.
Scarlett is a mom of two, a four-month-old boy named Cosmo, and seven-year-old daughter Rose Dorothy. While Cosmo is too young to understand what the holidays and Christmas traditions are, Rose isn't. In fact, she's at the age where it's going to be a lot harder to keep that magic alive.
And Scarjo might have ruined it already. While promoting her new movie Sing 2, Scarlett spoke with E! News' Daily Pop on December 13 and explained what happened when her daughter found something on Santa's little helper, the Elf on the Shelf.
"[She] found him in the box the other day. She was like, 'Why is he in this weird dusty box?' And I was like, 'He lives there right before Christmas,'" Scarlett said. "That was bad." She admitted that he "kind of killed" the Elf on the Shelf tradition because she wasn't able to explain away the packaging.
Scarlett didn't mention if her daughter doesn't believe in the Elf magic now that she's seen the box. But she's definitely not the first parent to accidentally reveal something around the holidays that may take some of the spirit away. And she won't be the last.
There is one family tradition Scarlett has with her family that sounds like it will never lose out on the fun. "We do Secret Santa," she added. "It's pretty competitive. My siblings are aggressive."
Scarlett is currently promoting her latest movie Sing 2, and she said the return to the red carpet has brought some wardrobe changes, too. "I've been wearing sweatpants for about two and a half years," she explained, which is something many of us can relate to. However, on the red carpet, Scarlett traded her sweats in for a "colorful and celebratory" dress. "This is not sweatpants," she joked.
This article was originally published on