ScarJo's 7-Year-Old Had The Most Brutally Honest Reaction to Her Baby Brother
The "baby bliss bubble" didn't extend to Rose, apparently.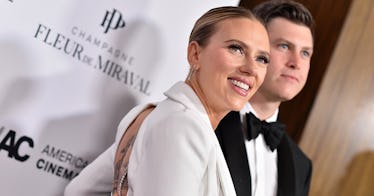 GETTY
Scarlett Johansson and her husband Colin Jost made their first red carpet appearance since they welcomed their second child, a baby boy named Cosmo.
Joining Scarlett's daughter from her second marriage, Rose Dorothy, the family has been in a "baby bliss bubble," but it hasn't been as awesome for Rose.
According to People, Scarlett and Colin attended the 35th Annual American Cinematheque Awards on November 18 where she was accepting the American Cinematheque Award, honoring her significant contributions to the film industry.
It was the first time the couple had been out since welcoming their son, Cosmo, in August, and Entertainment Tonight spoke to the mom-of-two before she headed inside about parenting two kids.
"I feel very fortunate that I've been able to take this time to really enjoy the early stages of my motherhood with our son," she said. "It's been wonderful. I'm in a 'baby bliss bubble.'"
There is an adjustment period with any new baby that the whole family falls into. For many parents during this time, it can feel like everything is all baby all the time. And that's true for any older siblings, too.
But apparently (and hilariously and, for parents of two, totally unsurprisingly) this is not the case for Scarlett's daughter, Rose Dorothy. Scarlett said that her 7-year-old daughter was less than enthusiastic about the newest family member.
"She's seven, so she's very busy, she's kind of like, 'Oh yeah, he's cute. So, all this happened,' [just] non-stop talk," she joked to Entertainment Tonight.
It's hilarious and completely relatable that ScarJo's daughter had a seemingly blasé reaction to her new baby brother. While the parents are likely feeling overwhelmed trying to juggle it all, it's a good sign that Rose is operating as if everything is all the same. And that she's keeping busy. The life of a 7-year-old is fun and busy stuff!