Student Loan Payments Are Back — How Biden's SAVE Program Could Help Families
Here's everything you need to know about SAVE.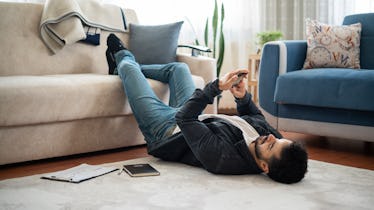 Abdullah Durmaz/E+/Getty Images
Last week, the Biden administration unveiled the first phase of its new income-driven student loan repayment plan. The launch of the website comes as federal student loan payments are scheduled to restart this fall after more than three years of COVID-19-related pandemic payment pauses first initiated and extended by former President Donald Trump and extended by current President Biden several times. During the long pause, payments on student loans were not required to be collected, and interest was effectively paused. While some borrowers took the time off interest to capitalize on paying down their loans, for many others, that line item was fully subsumed by other budget needs: child care, the cost of which continues to skyrocket, rent, and groceries.
Repayment is bound to come as a financial shock for many, as new monthly payments hit family budgets: Interest resumes on September 1, and payments on October 1. Biden's new income-driven repayment plan — SAVE (Saving on a Valuable Education) — replaces the existing Revised Pay As You Earn (REPAYE). While it provides maximum gains for middle-class and working-class borrowers and families, it promises major changes for most borrowers.
Some borrowers will pay $0 a month under the new program, which also offers accelerated loan forgiveness in some cases.
SAVE is potentially big news for families, given that borrowers between the ages of 35 to 49 — peak parenting years in the U.S. — make up the largest group of borrowers by far (at 14 million) and owe the most in federal student loans. And because under SAVE, family size directly affects how much borrowers will pay each month. But for all student loan borrowers, 80% of whom are under 50, the program has the potential to change their financial lives.
"The reality is that there are a lot of folks who are paying their own loans, trying to figure out how to save for their kids to go to college," says Persis Yu, the deputy executive director and managing counsel of the Student Borrower Protection Center, a group that advocates for student borrowers. "We are creating intergenerational debt. You're going to see people still owing as much as they took on their original loans, taking on Parent Plus loans so that their kids can go to school because they couldn't also afford to save."
"I do think, legitimately, we are looking at a real crisis in our student loan system," Yu says of repayment and interest restarting in just a few weeks. "We've been in a crisis, but it's just been hiding below the surface."
What is SAVE, and what does it do?
SAVE is the latest repayment plan designed to adjust the monthly payments for borrowers based on family size and income. Previously, the REPAYE IDR plan required borrowers to allocate 10% of their discretionary income each month to pay down their student debt.
The new SAVE plan will cut payments on undergraduate loans in half, reducing the required loan allocation to a maximum of 5%. And individuals who earn less than $15 per hour will be exempt from making any payments to student loans under the new SAVE plan. Those who took out loans for graduate school will, unfortunately, still have to pay a higher percentage of their discretionary income.
But SAVE is also different than REPAYE in that it raises the amount of income — for both undergraduate and graduate borrowers — that's protected from repayment.
"For most people, [SAVE] will lower payments," Yu explains. "There is a certain amount of income that we assume a borrower needs to go for their everyday living, and we're not going to expect them to take from that pot of money in order to repay their loans — that's your housing, your food, clothing, basic needs. It's been increased from 150% of the federal poverty line to 225%, based [on] the borrower's family size. We know that people don't have the same expenses. There are many people who have needs — childcare being one."
Simply put, because more of your income will be protected — and you'll be required to pay a lower percentage of the remaining discretionary income toward loans — most borrowers will be able to take home more money. The federal government estimates that borrowers who qualify for SAVE will see their "total payments per dollar" drop by 40%.
Who does SAVE help?
Income-driven repayment programs are for borrowers with federal loans — there are several different IDR programs and you may qualify for one, but not another. (REPAYE borrowers will automatically be moved to the SAVE program.)
Direct subsidized, unsubsidized, consolidated, and PLUS loans for graduate students all qualify.
FFEL & Perkins Loans can qualify — but need to be consolidated into a direct loan.
Unfortunately, federal Parent PLUS loans taken out by parents for their kid's undergrad do not qualify.
If your annual income falls below $32,800 (equivalent to roughly $15 per hour), your monthly payment will be waived entirely. The same is true if you're a family of four earning $67,500 or less.
The government's StudentAid website breaks these numbers down further, showing how much the estimated loan payment is under the new SAVE plan based on income and family size. The chart highlights how significant the new plan is in helping struggling families prioritize basic needs over student debt repayment.
For those earning above these thresholds, the SAVE Plan ensures you save a minimum of $1,000 annually compared to other IDR plans. Depending on your income, you may want to see if an IDR plan like SAVE will save you any money at all — or if you're better off paying down your loans a different way. (If your income is on the higher end, you could end up with a very high income-driven repayment amount, and interest would still be accruing on the loan — other plans that make it possible to pay off loans faster might be a better bet.)
"The benefits of the SAVE plan will be particularly critical for low- and middle-income borrowers, community college students, and borrowers who work in public service," the department notes.
How will interest work under SAVE?
Another significant piece of SAVE is that it will waive unpaid interest. Under current IDR plans, says Yu, if your payment is very low, your balance "would just go up and up and up." Despite making payments on your loan, interest would continue to accrue, and the only hope was that after making 20 to 25 years of consistent payments, your loan would be forgiven. Meanwhile, IDR has been a historically flawed program, in which millions of low-income borrowers didn't have their loans canceled as promised, thanks to mismanagement and clerical errors, leading to folks having trouble believing in the repayment program.
Before the change, "you have no sense in how much progress you've made on your loan," says Yu. "You just see your balance growing, and then you have to just take it on faith that in 20 or 25 years, your loans will be canceled."
Other benefits of the SAVE program?
Borrowers with original principal balances of $12,000 or less will be eligible for loan forgiveness once they have made 10 years of payments. The forgiveness timeframe will increase by one year for every additional $1,000 borrowed, up to 20 to 25 years of repayment.
Borrowers who choose to consolidate their loans will not lose progress toward forgiveness. Instead, they will receive credit for a weighted average of payments contributing to forgiveness based on the principal balance of the consolidated loans.
Certain periods of deferment and forbearance will automatically count toward forgiveness for borrowers.
Borrowers will have the option to make additional "catch-up" payments to receive credit for any other periods of deferment or forbearance not automatically accounted for toward forgiveness.
Borrowers who are 75 days late on their payments will be automatically enrolled in IDR if they have consented to the Department of Education to access their tax information securely.
How to apply for SAVE
The SAVE program will be launched in waves: Some pieces of the plan are being implemented immediately, including protecting a bigger percentage of discretionary income. Other parts of the plan will launch in July 2024 — such as the 5% cap on undergraduate student loans. That means that payments you start making on SAVE this fall will be higher than they will be a year from now.
Applying for SAVE can be done directly on the Education Department website. According to the administration, applying takes approximately 10 minutes. But if you're already enrolled in the REPAYE Plan or recently applied, you will automatically be put on the SAVE Plan.
To apply, you will need to provide your contact details, financial information, and your federal student aid ID.
Visit studentaid.gov for more information.