Ryan Gosling's Barbie Red Carpet Look Proves Real Men Wear Pink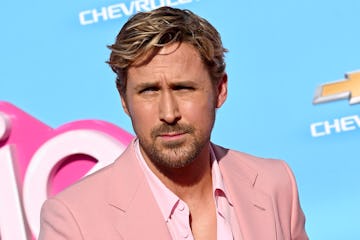 Albert L. Ortega/Getty Images Entertainment/Getty Images
The Barbie Movie release date hits on July 21, 203, and Ryan Gosling's Ken is here to remind men everywhere that it's time to wear more pink. On the red carpet for Barbie at the LA premiere on July 10, Gosling and his Ken co-stars, all rocked pink.
Alongside his co-stars Margot Robbie, Simu Liu, Michael Cera, and Issa Rae. And Gosling had his full inner "Ken-ergy" shining in his pink suit. Simu Liu is playing another version of "Ken" in the movie, while Michael Cera is playing a non-Ken named "Allen," and yet, Cera looked great in pink, too.
According to Yahoo!, Gosling rocked a Gucci suit in the unique blush pink color with a ping button-down in a slightly lighter color. Even his shoes were a light color pink, and he accessorized with a necklace with a pink "E" in the iconic Barbie font.
For some dogmatic, narrow-minded dudes, pink isn't always the go-to color for guys. But, pink is for everyone, and even James Bond wore a pink dress shirt in Diamonds Are Forever. So, sure Gosling's pink suit makes sense for the Barbie movie premiere — but he also looks good in it. Take him off the red carpet for this movie; the pink suit still works! Think pink!
Here are some inspiring cool photos of Ryan Gosling wearing pink.
Taking a closer look at the necklace Gosling was wearing, the monogrammed pendant appeared to be an on-theme and subtle nod to his partner, Eva Mendes. The two are parents to two girls, 8-year-old Esmeralda and 7-year-old Amada.
The couple is notoriously private about their private life, but recently Gosling mentioned his love for his Mendes.
"They [his daughters] have the greatest mom of all time," Gosling told E! News, "So we just all follow her lead really."
Barbie hits theaters on July 21, 2023.