Robert De Niro's New Baby's Name Is, Of Course, An Old-School Classic
Welcome to the world, baby!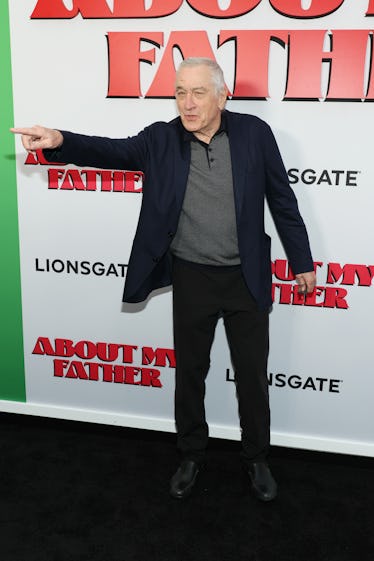 Dia Dipasupil/Getty Images Entertainment/Getty Images
Robert De Niro, 79, recently revealed that he had welcomed his seventh baby to the world, and now he's sharing more details. The accomplished actor and seasoned father sat down with Gayle King on CBS Mornings to fully introduce his daughter to the world, sharing details like her birthday and her name — which is, of course, an old-school classic.
On May 11, King said she called De Niro to see if he would be comfortable sharing more details about the mystery baby he had, and he was happy to introduce her to the world.
The Oscar-winner welcomed a little girl on April 6, weighing 8 lbs., 6 oz., with his girlfriend Tiffany Chen, King shared, per People. The couple, who are "over the moon" about the newest family member, named her Gia Virginia Chen-De Niro.
Given how old-school De Niro is, at least according to his parenting style, it's no surprise that he and Chen went with an old-school classic name instead of the unique baby name trend so many celebrities opt for.
In fact, when De Niro revealed that he was a father of seven just last week, he talked about his parenting style, which he's honed from 50+ years of parenting: "I don't like to have to lay down the law and stuff like that. But, [sometimes] you have no choice. And any parent, I think, would say the same thing. You always want to do the right thing by the children and give them the benefit of the doubt, but sometimes you can't."
According to Nameberry, Gia is a traditional girl's name originating from Italy, meaning "God's gracious gift." The origin of the name goes back to the mid-1960s, according to the U.S. Social Security Administration, and since then, it's steadily climbed up in popularity but never entered the top 100 name list for girls.
"Gia is a short form of Gianna, which in turn is a diminutive of Giovanna," Nameberry explains, "the feminine form of Giovanni, the Italian equivalent of John."
As for the middle name, Virginia is another old-school classic. The name is Latin in origin and means "pure" or "virginal," according to Nameberry, and it dates back to the 1900s or earlier. The U.S. Social Security Administration data shows the name ranked in the top 100 from 1900 to 1960, and it has slowly been dropping in rank since.
Congrats to the happy couple!