Robert De Niro's A 7-Time Dad Who Still Doles Out Old-School Parenting Advice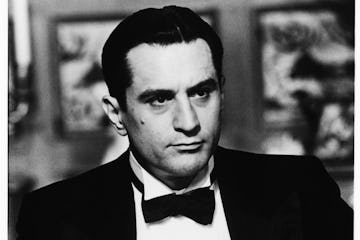 Warner Bros./Moviepix/Getty Images
Robert De Niro, 79, hasn't slowed down from making iconic movies and having an enriching home life. The accomplished actor is also a seasoned father, recently revealing that he welcomed his seventh child most casually before sharing some of his very old school — and frankly solid — parenting advice.
De Niro sat down with ET Canada to discuss his latest movie role in the film About My Father, a comedy also starring Sebastian Maniscalco. During the chat, the conversation shifted to De Niro's personal life as a dad, where he shared that his love language is "being loving with [his] kids," but he admits he also needs "to be stern about stuff."
"I mean, there's no way around it with kids. I don't like to have to lay down the law and stuff like that. But, [sometimes] you have no choice," he continued. "And any parent, I think, would say the same thing. You always want to do the right thing by the children and give them the benefit of the doubt, but sometimes you can't."
De Niro then casually shared some big news, correcting the interviewer when she mentioned that he has six kids.
"Seven, actually," he quickly shared. "I just had a baby," he announced.
With baby number seven, De Niro adds to a clan of kids: his oldest, Drena, is 51, Raphael is 46, Aaron and Julian are 27-year-old twins, then Elliot is 25, and Helen is 11.
Even though he's had over five decades of practice as a dad, he admitted that he's not a "cool dad" and parenting kiddos isn't always easy.
"You know, my kids disagree with me at times, and they're respectful," he explained. "My daughter, she's 11, she gives me grief sometimes and I argue with her. I adore her, but, you know. And my youngest now, that'll be more to come. But, that's what it is."
De Niro is also a grandfather, and he previously told People that he wants the best for all the kids in his life, and he wants them to live unafraid to reach their goals.
"For my kids, I tell them, 'If you want to be an actor or you want to do this or that, that's fine as long as you're happy. Just don't sell yourself short,'" De Niro said in January 2020. "That's the most I would say — push yourself a little more and reach for what you really think it is you want to do. Don't be afraid. It's important for them to find their own lane."