Rob Lowe's Secret To A Long, Happy Marriage Is Kind Of Profound
Rob Lowe and his wife, Sheryl Berkoff, have been married for more than 30 years, and now he's sharing their secret to making love last.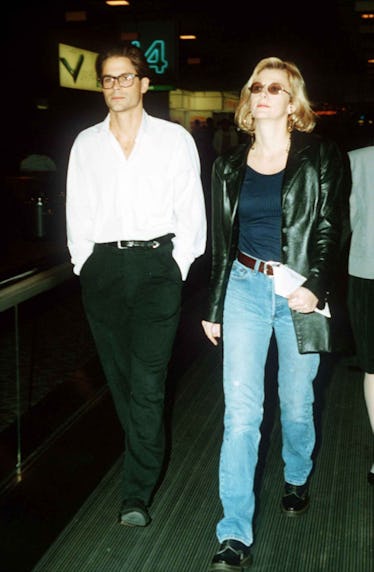 Mirrorpix/Mirrorpix/Getty Images
There's been a lot of love over the past 30-plus years between Rob Lowe and his wife, Sheryl Berkoff, and now the proud husband is sharing the secret to making their marriage stand the test of time.
People covered Lowe's appearance on the latest episode of iHeartRadio's podcast, "Table for Two with Bruce Bozzi." As a guest on the podcast, Lowe talked about finding the love of his life 31 years ago and how they keep that spark alive. His marriage has lasted three decades — a significant feat in both Hollywood and non-Hollywood terms.
But how? What's his and Berkoff's secret? It's all about the "ebbs and flows," forgiveness, and heat.
"[Marriage] is hard anywhere; it is not just Hollywood – it's everywhere," Lowe shared on the podcast. "Sheryl was and is my best friend. So if you marry for anything other than the fact that is your best friend, you're at a disadvantage from the jump because that will sustain when the other stuff ebbs and flows."
Lowe and Berkoff have been married since 1991, meeting on the set of the 1990 movie Bad Influence, where Lowe starred in the lead role ad Berkoff worked as a makeup artist on set. The two have two sons — 30-year-old Matthew and 28-year-old Owen.
Continuing his conversation on the podcast, Lowe shared that he believes a relationship needs to have forgiveness to be healthy and strong.
"People say marriage takes work. I'm not sure if it takes work, but what it does take is forgiveness and being really cognizant of what hill you're willing to die on," he shared.
And keeping that spark alive is going to help in a long-term relationship, too.
"I do believe you need the heat for sure," Lowe admitted. "If you don't have the heat – and that's a chemical thing – I mean, I still have it with Sheryl, you gotta keep the heat. That comes and goes too; there are times when you are like, 'Nah.' And then there are times when you are wild for somebody."
There you go: it's all about the ebbs and flows.