Rob Lowe Finally Reveals Why He Doesn't Age
And no, it's not because he's well-hydrated. Although he is.
by Donna Freydkin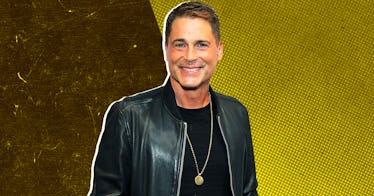 Getty
For a master class in trolling, just scroll through Rob Lowe's Instagram feed. A glossy shot of Lowe golfing in Monterey elicits the following from his son John Owen, 25: "We are trying to boost his self-esteem for a few days." A throwback of young Rob Lowe attempting to look suave in a double-breasted suit led to this gem from John Owen: "The inspiration for Ken Burns' next documentary: A time when confused celebrities still wore hand-me-downs." Mostly, the two brothers (Matthew is 27) leave their jewelry designer mom alone. "They know better. 'Cause she's way meaner than I am," says Lowe.
In truth, Lowe is sitting pretty. Make that very pretty, since he doesn't seem to actually ever age (along with Hollywood's other wrinkle-free wonder, Paul Rudd). He's back on set playing a firefighter who relocated from Manhattan to Austin on the Fox series 9-1-1: Lone Star. He's recording his podcast. He's kicking back in his luxurious digs in Santa Barbara, with his sons, wife Sheryl, and myriad pets. His boys, meanwhile, have done their dad proud. Matthew Edward finished up at Duke, and John graduated from Stanford and just passed the California Bar. "He graduates with his degree with literature from Stanford and uses it to troll his father. That's a hell of a thank you for putting you through college," says Lowe.
The actor and writer talks to Fatherly about why he looks so young (sorry, it's genetic), raising responsible kids, and what makes his marriage work.
Apropos of absolutely nothing, you're super tight with Chris Pratt and he and Katherine Schwarzenegger got married at your home. Have you met their new baby Lyla yet?
Have not yet. COVID is preventing me from meeting the new little buckaroo. But she's very, very cute. I can tell you that. I can tell you that from the phone. They make good babies. He is one of the good ones for sure.
How have you been holding up during this whole COVID situation?
I've been really, really busy even though COVID. I've been really, really blessed and everybody has been healthy, so that's good.
In addition to your 900 other projects, I know you're a spokesperson for Ancestry. What brought that about?
Well, it's just the greatest fit. It's such a rare, wonderful thing when you can partner with a product that you're obsessed with. It combines a lot of my favorite things. It's your family tree, it's your family origin, it's your family story history, which I love and storytelling because the stories that just that I've learned of my ancestors are spectacular. They help inform who you are and why you are the way you are. I think it's really important for people to take ownership of where they come from and, and pass that down. That was a tradition for as long as we've been human beings.
Did it shed light on why you never seem to age?
Here's the other thing going back to Ancestry. I found photos of my third-generation grandfather. He looks really young. My dad looks really young. So you go, 'A lot of its genetics.' My pops is 82 and he looks like a normal 60-year-old man. And he's 82.
Plus you don't drink, which has to help.
That's the other thing. Even sort of social drinking over the years leaves a mark. Even if you're not an alkie like I was. It's going to show. So I was lucky to be able to have a good reason to give it up 30 years ago. It's lots of water now.
You and the missus have been together for 30 years. What makes things work? The right person? 100% casting. They asked Alfred Hitchcock. What's the secret to a hit movie. Same as marriage — casting. She's my best friend. She's beautiful. I'm still attracted to her and we have the same worldview. And, if you can tick those boxes, you, you have a shot.And despite the fact that your kids give you a hard time on social media, you seem to have raised really great kids, by all accounts.
All of us screw our kids up in ways we're not aware of. No one does it perfect. But my boys have turned out great. One, as you alluded to, passed the bar this year. My youngest is in his second year writing for Ryan Murphy and, and this year is writing on Lone Star and just wrote our biggest crossover episode, where everybody from the other show comes onto my show. So he's doing really well.
What do you attribute all of that to?
A lot of it is luck. We were really strict as parents but we were also the parents that were the cool ones. So we were able to be both — we really rewarded academics and were hugely academically focused. And we really held those boys accountable from the time they were really little. We paid attention. I was lucky to be there a lot. Sheryl, my wife, was lucky enough to be there a lot. I always have great empathy for parents who have to work two jobs or something like that, but we were able to be with them a lot. And I think that made a big difference.
The other thing is, parents model behaviors and the kids pick up on it. You know, I have been busting my ass at work since I was 15. It's not enough to do a network television show. I want to write bestsellers and it's not enough to write bestsellers. I want to have a podcast. I want to be entrepreneurial and work with brands that I'm interested in and I think are cool. I started a, a skincare company. My wife has started a makeup company and sold it and now has Sheryl Lowe jewelry. So they realize that the value of work because they see how hard we work and how much we love doing it.