People Are Renting Pools by the Hour to Beat the Summer Heat
Good for the swimmer, great for the pool owner.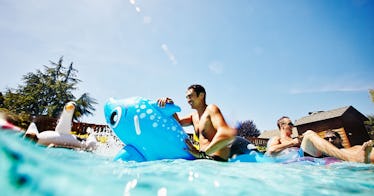 With many city amenities still not operating at full capacity to ensure there's enough social distancing, people are renting pools by the hour to beat the summer heat. And while renting a pool by the hour might be a non-traditional way to spend the summer, it's really taken off.
According to The Wall Street Journal, Swimply dubbed the "Airbnb for backyard pools," has jumped in popularity since 2020. The site operates similarly to Airbnb, where pool owners list their property, show the amenities, and name an hourly price. The site also allows people to browse available pools and make a reservation.
"Swimply said its pool owners have made about 122,000 bookings since the start of 2020," The Wall Street Journal reports. "Business began picking up before the Covid-19 pandemic, but it boomed during the health crisis as public pools closed and people sought to make extra cash or safely gather after months of lockdown."
And when they say "boomed," they mean it. The site saw a 4,000 percent growth as the pandemic unfolded. Now, approximately 13,000 pool owners across 125 markets all over the United States have listed their properties. And they are making a good bank. On average, hosts can earn between $5,000 and $10,000 a month, according to Swimply co-founder and chief operating officer Asher Weinberger.
The site reports that pool owners can list their own rental price, which typically runs between $35 and $50 per hour. "Swimply collects 15 percent from the hosts and another 10 percent from the guests," The Wall Street Journal reports.
Swimply isn't the only service offering pool rentals. Airbnb has always listed home with pools included. Peerspace, a marketplace for booking event venues and film-production locations, has also seen increased hourly pool rentals.
Renting out a pool for a few hours isn't a bad way to spend a hot day without having to worry about how many people you might come in contact with. Also, if you own a pool, this might be the best time to look into renting it out.