Remington Offers $33 Million to Sandy Hook Families in Settlement
Nine families are suing the now-bankrupt gun manufacturer for how it marketed firearms.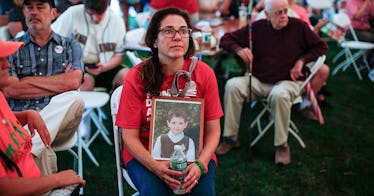 GETTY
Remington has offered nine families of victims in the Sandy Hook shooting $33 million to settle their lawsuit over how the gun manufacturer marketed their firearms.
If the nine families involved in the lawsuit agreed to the settlement, they would each receive $3.66 million. Lawyers representing the families said that they would "consider their next steps" and would not publicly speak on whether or not they were likely to accept the proposed settlement.
In 2012, the mass shooter at Sandy Hook used a Bushmaster AR-15-style rifle made by Remington to murder six adults and 20 children at Sandy Hook Elementary School in Connecticut. The families of nine of the children who were killed filed a lawsuit against Remington in 2014.
Federal law protects gun manufacturers from being held responsible for wrongful death lawsuits brought by family members of victims. But the lawsuit against Remington targeted the company's marketing, arguing that they specifically sold the image of the gun as a combat weapon and appealed to young, at-risk males as part of their marketing strategy through product placement in violent video games. Connecticut law restricts marketing practices that are deceptive.
Remington tried to get the lawsuit dismissed, arguing that there was no factual basis for the idea that Remington's marketing had any connection to the shooting. In 2019, the Supreme Court declined to take up Remington's appeal and on Monday, a judge denied Remington's request to dismiss the lawsuit entirely. The company made the settlement offer the next day.
In 2020, Remington filed for bankruptcy for the second time in two years and the company's assets ended up being sold off to other companies. Joshua Koskoff, one of the attorneys for the families, said that the settlement offer was made by Remington's insurers who "deserve credit for now realizing that promoting the use of AR-15s as weapons of war to civilians is indefensible."