Prince Harry and Meghan's Royal Exit Was to Protect Archie
Amid racist abuse, a lack of institutional support, and the revelation that Archie wouldn't have a security team, Harry and Meghan did the only thing they could: protect their family.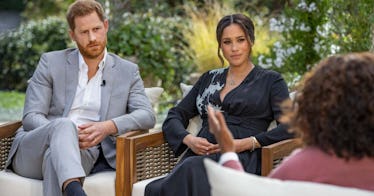 Harpo Productions/ Joe Pugliese
In the late evening hours of March 7th,
CBS aired a two-hour interview special. Oprah, the eponymous interviewer, and media personality interviewed Prince Harry and his wife, Meghan Markle, in a nondescript backyard in Southern California about their choice to leave senior working royal duties behind and chart a new life in the United States. In turn, Markle and Harry spoke at length about the environment that led them to grab Archie and go, refuting long-running rumors that had been lobbed at the couple in the press. Those rumors suggested that Meghan and Harry blindsided the Royal palace with their exit, that Meghan had, at one time, made Kate Middleton cry, and that even the manner in which Archie was introduced into the world was their choice.And quite frankly, what the interview revealed was two parents who were doing all they could to help themselves — Meghan and Harry were both frank and honest about their mental health struggles during that time — and their son, Archie, the first-ever Black royal to grace the family. The most important revelations in the interview had, often, to do with their own mental health or the health of their son. Meghan and Harry revealed that when Archie was going to be born, for example, there were racist conversations within the institution over what "color" Archie would be, and immediately, the institution made it clear that Archie wouldn't get any of the titles that his cousins Prince George and Princess Charlotte already has, despite it being convention for centuries that the grandchildren of the Queen and King automatically become Princes and Princesses. That revelation matters for two reasons — one, because it was spun in the press that Meghan and Harry had decided not to give Archie the royal titles so he could have a chance at a normal life and two, because without the Princely title, Archie would not have the necessary security team like his father, or his cousins did. Amid constant threats at their life, racist abuse, and death threats, the lack of security for a public figure who is literally an infant is ghastly. And it makes it clear why Meghan and Harry looked quickly for a way out. Another major moment that was clarified in the interview was the widespread outrage by the press when Meghan and Harry didn't do the classic photograph that Harry's mom, Diana, and also Kate took when their babies were born — standing outside of the hospital and waving to the press. The press had largely made this seem like yet another new-age personal choice by Meghan and Harry. Actually, Meghan clarified, she and Harry weren't invited to take that photo. At one point, Meghan revealed in the interview, she was experiencing suicidal ideation, going so far as to, several months into her pregnancy, ask Harry to not leave her alone because she was scared to be alone. When she went to HR within the institution to ask for help, she was told that she couldn't get any, with the implication being that it would be a bad look for the royal family. Harry also asked for her, and they fought together to try to get her access to therapy or mental health help, but couldn't receive it. This revelation, coming from a couple that has made mental health advocacy a huge part of their charity work, is shocking and depressing. And it's clear that this lack of inside support is a massive reason why they left. They couldn't get any of the help they needed and were expected to suck it up. Now, the interview is filled with lots of salacious information. There was talk of an "invisible contract" between the tabloids and the institution, the suggestion that the firm chose not to protect Harry and Meghan from bad, and false, press, that there was confusion as to why they were thrown to the dogs. Harry and Meghan had had conversations for months about leaving the Royal family, making their statement to the public that they were stepping back not one that blindsided anyone. Prince Harry talked about his crumbling relationship with his father and brother, Meghan revealed just how far she went to do the Royal family right in terms of her service, and the couple stated, time and time again, that they had no intention of leaving the Royal family when they got married — they only left because they simply felt they had no choice, for Archie and for each other.
There was also the matter of Prince Harry being cut off financially and having his security removed from him and his family, which is what hastened Harry and Meghan's moves to Tyler Perry's mansion at the beginning of 2021 — and Perry lent his security team to them when they were stripped of security.Their creation of Archewell was never part of the plan, they also kept stating, because all they wanted, initially, was to be more other Royal family members: still a member, still able to engage in private business, still at the service of the Queen. But because that couldn't happen, for whatever reason, they are now stateside. And it's all quite depressing. For one, the undertone of the entire interview is that racism hastened their departure — and racism was a constant undertone of not just Meghan's arrival to the family but also Archie's, and soon, their future daughter.
But also, that it clearly didn't have to be this way. Harry suggests in the interview that Meghan could have modernized the monarchy and that she was more than willing to do it. Instead, the couple has left to chart their own life, a private life, and one that will be for the betterment of them and their growing family. That's okay, too. After all, as Meghan said at some point in the interview, the most important role she will ever have is as "Mom."
This article was originally published on