Peppa Pig Effect: US Kids Are Talking In British Accents
::Michael Caine voice:: Not a lot people know that.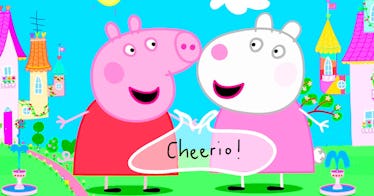 Entertainment One
Is your American child suddenly talking with a British Accent? If so, you're not alone. It turns out that toddlers and preschoolers around the US have all developed post-pandemic cockney accents that would put Dick Van Dyke to shame. Or, in the immortal words of something Michael Caine maybe never said— US kids are suddenly speaking with English accents, and it's all because of COVID-19 and watching too much Peppa Pig — not a lot of people know that!
According to The Wall Street Journal, parents have begun to notice their toddlers are developing a British accent. Not only that, but the young kids are picking up phrases typically used in the UK such as "lift" for elevators, "telly" for the TV, and saying "to-mah-toe" and "muddy puddles." And it's been happening so much to our kids that it's being called the "Peppa Effect."
The Peppa Effect isn't necessarily new. Parents have been joking about their toddlers talking like Peppa and her family for a few years. But since the pandemic began and we've had less and less to entertain our kids with; limiting screen time is one of the least of our worries. And so Peppa took over.
"It was almost like a happy accident at a time when I was trying to find a pseudo babysitter during Zoom meetings," Matias Cavallin, a public-relations manager and dad to five-year-old Dani, told The Wall Street Journal. "It was either Peppa Pig or no work."
Citing data from Parrots Analytics, a consulting firm, The Wall Street Journal reported Peppa Pig as the second most in-demand cartoon for a 12-month period. Not only that, but Peppa Pig was also the 50th most in-demand out of all TV shows, not just cartoons, moving up from the 103rd spot the year before.
The show was first released in 2004, and it's often cited by parents on social media as a favorite for their toddlers to watch. Peppa is a feisty girl pig who has a funny family, including her brother George. "Young Peppa fans see her as a friend…and, as we do with friends that we admire, pick up some of their characteristics," Peppa Pig owner Entertainment One Ltd. said in a written statement to The Wall Street Journal. "Imitation is the sincerest form of flattery," it continued.
This year, more than any other, our kids have had to sacrifice a lot. Many were pulled out of school or daycares. Others were not able to have playdates or see their friends. And parents have been left to do the juggle themselves. So, it's not a surprise we've been relying on TV characters a little bit more. And honestly, after all, this, if all our kids come out with his an adorable Peppa-like accent, that's a win. Maybe?
This article was originally published on