Vin Diesel Writes Emotional Post on Brotherhood Between Him and Paul Walker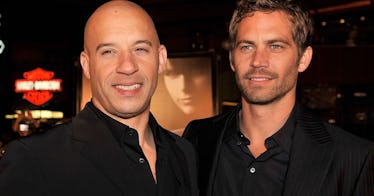 GETTY
Shortly after the eighth anniversary of the death of Paul Walker, his Fast & Furious co-star Vin Diesel was at the annual FuelFest music and automotive festival in Phoenix, Arizona. Diesel, who has long referred to Paul as his brother, commemorated his passing by spending time with Paul's biological brother Cody, who hosted the event.
Diesel shared a video on Instagram of him at the event with his arm around Cody, saying how proud he was of him and how much it would mean to Paul.
"I'm here with my brother in FuelFest," Diesel said. "It is an honor to see the whole car culture being brought together by my brother Cody. I'm so proud of him and I know my brother Pablo is even more proud of him."
Cody expressed his gratitude for Vin and everyone else who showed up, including fellow Fast & Furious star Tyrese Gibson.
"Thank you all, for everybody that showed up, who showed so much support today. Thank you to my family for showing up in a big way," Cody said. "It's a huge deal."
Paul died in a car crash in California on November 30, 2013. On that same day this year, Vin posted a tribute to his friendship with Paul on Instagram, talking about how he offered Vin advice and comfort about the birth of his daughter. He also talked about how their families have remained close since, sharing a photo of their daughters at Paul's daughter Meadow's wedding.
"Tragedies in life are always followed by life's blessings if you just stay open and have faith," Diesel wrote. "Look at this photo Pablo, it will make you smile. The same angel that you helped me prepare for in the most beautiful way with your brotherly advice is the same angel that precious Meadow asked to be her Maid of Honor. How could I have known that back on the 2008 set of Fast… but maybe somehow you did. Miss you. My children always tell me that uncle Paul is with you dad, always… and I know in my heart that they are right. Miss you Pablo…"