The Longest Lunar Eclipse In This Century is Almost Here
Get ready for the last lunar eclipse of 2021.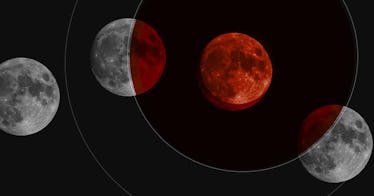 November is officially here, and along with getting used to the deeply dark nights, getting ready for Thanksgiving, and getting a head start on Christmas shopping, this month means that the last lunar eclipse of the year is coming tonight — technically, it's on November Friday, November 19, though you're going to have to get out of bed in the wee dark hours to see it.
Though the eclipse is not total — we won't be getting another one of those until 2024 — it will be very close to one. In a near-total lunar eclipse, like the one happening on November 19, 2021, the Earth moves between the Sun and Moon but the three don't end up forming a completely straight line in space, which is what causes the Earth's shadow to cover the moon.
The most important thing is that this lunar eclipse is the longest of the century, it's near-total, and it's viewable nearly everywhere in North America. Here's what to know — and how to see it.
The Longest Lunar Eclipse of the Century
The good news is that this will be the longest lunar eclipse of this entire century, as NASA said that the moon will be in the Earth's shadow for a whopping three hours and 28 minutes (for reference, the longest total lunar eclipse in 2018 lasted an hour and 42 minutes, meaning this will be near twice as long).
This lunar eclipse is also the longest since the 1400's. So, yes, it's roughly a once-in-a-lifetime event. This is definitely a cosmo occurrence that you are going to want to check out.
When Is The Lunar Eclipse?
The partial lunar eclipse will take place tonight, on November 19, 2021 (which means it will really be the night of November 18, into the early hours of the 19th, for stargazers in the United States). It will be visible starting at around 2 a.m. EST and is expected to peak at 4:02 a.m. EST, so you may have to stay up a bit later than usual to get a good glimpse of it.
Here's How to Watch It
Since it is just the moon, you won't need binoculars to get a good view of it. And unlike a solar eclipse, you won't be required to wear any eye protection in order to view it safely. Just look up at the sky and get a good look. Very simple.
Where Will it Best Be Seen?
This will also be pretty easy, as the partial lunar eclipse is expected to be viewable throughout almost all of North America, along with South America, Australia, and parts of Europe and Asia. So if you want to see it, it really shouldn't be that hard to miss. Just know it's the last of the year, so it's an exclusive event you really won't want to miss.
This article was originally published on