It's About To Get Way Easier To Get A Drink At Disneyland
New booze options are hitting California's most magical place in September.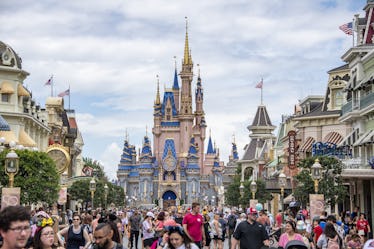 Anadolu Agency/Anadolu Agency/Getty Images
Disneyland is growing up. The park famously barely serves alcohol, but now it's set to introduce new booze options coming this fall. For parents who just want a cold beer at the end of their park visit, this might be fabulous considering the bottleneck (no pun intended) on alcohol in the California park.
According to SFGate, on Sept. 12 of this year, three table service restaurants within the park are set to debut a new drink menu that will serve wine, beer, and specialty cocktails. These new options will be available at Café Orleans, River Bell Terrace, and Carnation Café.
Scott Gustin, a reporter who covers Disney for Nexstar, shared some details on social media about the new drink menu. According to him, Café Orleans will offer a "Pimm's hurricane" drink, the River Belle Terrace will serve a "wildberry mule," and Carnation Café will have a bloody Mary on its menu.
"The updates are part of new menu items being added to menus across the resort this fall," Gustin shared. "Also important: There are no plans to introduce alcoholic beverages at quick service locations within Disneyland Park."
The menu changes to include alcohol is a polarizing choice because the park has famously had an alcohol ban since it first opened. At the time, Walt Disney himself instituted the alcohol prohibition because he didn't want his park to encourage people to act up, according to The Orange County Register.
"No liquor, no beer, nothing," Walt Disney said in 1956 in an interview with the Saturday Evening Post shortly after the park's opening. "Because that brings in a rowdy element. That brings people that we don't want."
Technically, these new menu items aren't the first time the park has allowed alcohol. In 1967, Disneyland opened up Club 33, an uber-exclusive private club, where members could drink. But uber-exclusive is not an exaggeration by any stretch: SFGate describes it as "The private club above New Orleans Square that costs $33,000 in initiation fees and requires a multi-year purgatory on a waiting list to be considered for membership." That's not including an annual membership fee that costs several thousand dollars.
And yes, in 2019, the park offered alcohol at the newly opened Oga's Cantina, the Star Wars-themed bar. And when the Blue Bayou, an iconic park restaurant, reopened after the pandemic, it began serving alcohol. But to have a handful of more options for drinks — even if it's just one ice-cold beer or glass of wine after schlepping strollers and kids around all day in the most magical place on Earth — might just be a nice treat for a sweaty parent.
But if the new drink menu follows a similar pricing structure as Blue Bayou, it won't be cheap to get boozy at the park. A glass of wine will run between $13 to $43, beer is $12.50, and a cocktail is $17, according to menu pricing.