Meghan Markle Wrote an Emotional Letter Urging Congress to Pass Paid Leave
"No family should have to choose between earning a living and having the freedom to take care of their child."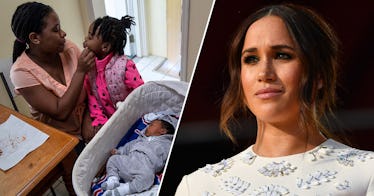 GETTY
Duchess Meghan Markle is once again using her voice to campaign for more support for working mothers. The Duchess of Sussex wrote a letter to Congress urging them to take the necessary steps to ensure, for the first time ever, that a federal, paid parental leave plan becomes law. Right now, Congress is debating President Biden's Build Back Better Plan — which includes some 12 weeks of paid family and medical leave for nearly all workers in the United States. It would be the first plan of its kind and, given how nearly all other wealthy nations offer some kind of paid leave, it would be long overdue.
In the letter, which was addressed to U.S. Senate Majority Leader Charles Schumer and House Speaker Nancy Pelosi, published on Paid Leave for All, Meghan opened up about her childhood, her role as a mother, and the importance of paid leave.
"I'm not an elected official, and I'm not a politician. I am, like many, an engaged citizen and a parent," Meghan's letter began. "And because you and your congressional colleagues have a role in shaping family outcomes for generations to come, that's why I'm writing to you at this deeply important time—as a mom—to advocate for paid leave."
"Over the past 20 months, the pandemic has exposed long-existing fault lines in our communities," she continued. "At an alarming rate, millions of women dropped out of the workforce, staying home with their kids as schools and daycares were closed, and looking after loved ones full-time. The working mom or parent is facing the conflict of being present or being paid. The sacrifice of either comes at a great cost."
In the letter, Meghan connected her own upbringing, writing that she witnessed her family's struggle to balance parenthood and finances when she was a child. She touched on her experience holding a job from a young age and struggling to make ends meet.
The duchess also mentioned her roles as a mom and acknowledged the parental leave both she and her husband, Prince Harry, were able to take after welcoming their second child, Lilibet Diana Mountbatten-Windsor, is something many American families don't have access to.
"In June, my husband and I welcomed our second child. Like any parents, we were overjoyed. Like many parents, we were overwhelmed. Like fewer parents, we weren't confronted with the harsh reality of either spending those first few critical months with our baby or going back to work," Meghan shared. "We knew we could take her home… we [didn't] have to make impossible choices about childcare, work, and medical care that so many have to make every single day."
She continued and said that "no family should be faced with these decisions. No family should have to choose between earning a living and having the freedom to take care of their child (or a loved one, or themselves, as we would see with a comprehensive paid leave plan)."
Democrats are trying to move forward with the $3.5 trillion plan, which currently includes providing 12 weeks of paid leave with progressive wage replacement with at least two-thirds of workers' earnings being covered for new parents or caretakers looking after ill family members. But because of in-party bickering — and namely, resistance from Senator Joe Manchin and Senator Kyrsten Sinema in particular, major parts of the plan are being scaled back and cut altogether. Some recent reports from The New York Times have shown that the paid leave program may, too, be scaled back.
That's all while multiple studies and critical consensus shows that paid leave would help the wage gap, helps parents bond with their partners and their children, helps birth givers heal after giving birth, and increases job satisfaction and productivity. The data is more than clear that access to paid leave is hugely beneficial for parents, the community, and the economy as a whole. And that's how Meghan is framing her argument urging lawmakers to prioritize paid leave.
"In taking care of your child, you take care of your community, and you take care of your country—because when paid leave is a right, we're creating a foundation that helps address mental health outcomes, health care costs, and economic strength at the starting line," Meghan concluded her letter. "Paid leave should be a national right, rather than a patchwork option limited to those whose employers have policies in place, or those who live in one of the few states where a leave program exists. … This is about putting families above politics."