Why CEOs Are Warning You To Order Your Christmas Presents Now
You don't want to end up giving your kids a lump of coal (or a printed photo of what you actually wanted to get them) for Christmas.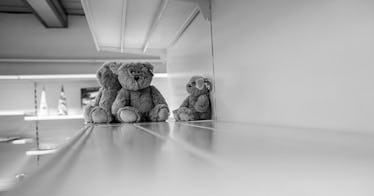 GETTY
With the summer heat persisting across large swathes of the United States, Christmas feels like it couldn't be further away. But unless you want your kid to find a lump of coal under the tree — or, more accurately, a printed photo of the gift you had planned to get them that didn't arrive on time — you may want to start doing your holiday shopping sooner rather than later, because experts say that consumers may be facing a brutal combination of continued shortages and increased prices when it comes to the holiday season.
"I half-jokingly tell people, 'Order your Christmas presents now because otherwise on Christmas Day, there may just be a picture of something that's not coming until February or March,'" Scott Price, the president of UPS, told Business Insider. That shouldn't be that surprising — last Christmas featured many of the same problems that we'll expect to see this year.
The reason for the shortage in supply is simple: the pandemic has created a demand that suppliers have been unable to meet due to COVID-19 shutdowns, shortages in labor, and unusual weather across the globe. Demand isn't the only problem, however.
This increase in demand has led to a subsequent increase in prices for consumers, with overseas shipping rates between the United States and Asia jumping 500 percent compared to last year. Food prices in America have been rising for six straight months and US consumer prices saw their largest annual increase in over a decade. Shipping delays and hiccups due to COVID-19 restrictions and logistical hurdles have also made it harder for gifts, furniture, or other items to get across the world. In other words, stuff is more expensive, and it's taking longer to get to where it needs to go.
Kroger CFO Gary Millerchip confirmed that the burden of these developments will likely fall on the consumer in the form of higher prices, as he explained in the company's earnings call that the company will be "passing along higher costs to the customer where it makes sense to do so."
And with the pandemic persisting, it's looking increasingly unlikely that these trends will be gone by the time Christmas comes around. And for that reason, there could be massive shortages of popular items that you were hoping to get for your kid or spouse or even for yourself for the holidays. That's why the smart move may getting an absurdly early start for Christmas shopping to ensure that you don't miss out on any choice gifts.