'Operation Santa' is On: Here's Why You And Your Family Should Start Early
One of the best holiday traditions officially kicked off this week.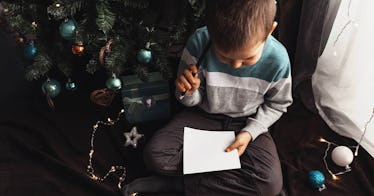 With Halloween in the rearview mirror and just a small pesky November holiday up next, some may say we've officially entered the Christmas season. (At least, Mariah Carey enthusiasts might.) Regardless of how you feel about Christmas creep, one of the most heartwarming traditions of the holidays is already underway. That's right: Operation Santa is back.
The USPS just launched its annual Operation Santa program. For those who don't remember, Operation Santa began as an initiative where kids mailed their letters to old Saint Nick and the Postal Service sent back a response. The program was specifically created for families in need that may be struggling to get their kids everything they are asking Santa for.
But back in 2017, the program expanded, allowing people in New York City to "adopt" letters to Santa, meaning that they would send a response to the kid who mailed Santa, and they'd also get the kid in need some small gifts that they asked for. In 2020, that aspect of Operation Santa became a nationwide initiative.
It's no secret that 2020, and 2021, have been excessively hard years for American parents. So if you're looking to give back this Christmas — and in particular to spread the holiday cheer — Operation Santa is a great way to do it.
So, how do you get involved? It's pretty simple but it does take some time, which is why you may want to get a jump on it as soon as possible. You need to register as an adopter (which includes ID verification) and once you're approved, you can then select a specific letter to adopt on USPS's Operation Santa page. After you've adopted a letter, you simply follow the directions in order to get the gift and resulting letter to the child.
You can register up until December 15, but if you really want to make sure that the kid gets the gift by Christmas, you are probably better off doing it before then. After all, supply chain issues — and a planned slowdown of USPS mail service enacted by Postmaster Louis DeJoy — will make the mail slower in a season where it's already crowded to the maximum. So if you and your family want to make a kid's Christmas, decide to do it soon!
You can adopt a letter as a group and businesses are also welcome to participate. Letters have already been posted online, so go check them out now and get into the giving spirit of Christmas by registering for Operation Santa today.