Breaking: Every American Needs to Throw Out These Types of Onions, ASAP.
A few types of onions have been linked to a Salmonella outbreak in 37 states. Throw out your onions.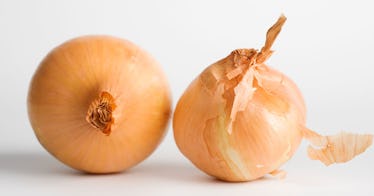 The CDC is currently asking people, and restaurants, to not use, buy, or eat any whole red, white, or yellow onions after a massive Salmonella outbreak has affected at least 650 people across the country in 37 states.
What Onions Need to Be Thrown Out?
The onions in question are from ProSource Produce Inc. from Hailey, Idaho, per Food Safety News. The onions were imported from Chihuahua, Mexico, between July 1, 2021, and August 27, 2021. Even though the last import of these Salmonella-infected onions was almost two months ago, onions can stay good for several months, so it's imperative to throw them out even if you just bought them as they could have been in storage or on shelves for quite some time.The onions affected, per the CDC, are jumbo, colossal, medium, and sweet onions as well as red, white, and yellow onions.
What Should You Do if You Don't Know Where Your Onions Are From?
If you don't know if your onions came from ProSource Produce and were imported from Chihuahua, Mexico, because they may not have stickers or labels on them, the CDC says you should toss them out anyway. This guidance is for every American (and business as well) in every state across the country, given how widespread the Salmonella outbreak has been.Part of the problem with Salmonella outbreaks is that, unlike other bad or bacteria-ridden food conditions, Salmonella is hard to detect until people start getting sick. That's because foods with Salmonella infections sometimes do not look, taste, or even smell spoiled. The other problem with Salmonella is that people can become infected, not get sick or symptomatic, and still give it to others. That's why it's imperative that, if you don't know where you got your onions and even if they look and smell normal, you must throw them away.
You Need to Do More Than Throw Your Onions Out
The CDC says that if you throw out your onions because you know they're from Chihuahua or even if you throw them out because you don't, you should clean and sanitize any containers you kept the onions in — even if they were sitting in the plastic drawer of a refrigerator.
Salmonella Symptoms and Seriousness, Explained
The CDC says you should call your doctorWhile many people recover on their own within a week or so, people are frequently hospitalized with Salmonella. Children, the elderly, and immunocompromised people are at higher risk of becoming seriously ill.Victims of the outbreak have included infants as young as one and seniors as old as 97 — and at least 650 people have been confirmed to have Salmonella in the midst of the outbreak. At least 129 people have gone to the hospital. No one has died, but Salmonella can be fatal.
This article was originally published on