Omicron 2.0 is Coming — Here's What You Need to Know
Omicron BA.2 has been found in three states. Should you be worried?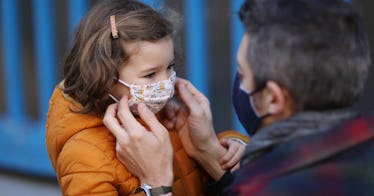 Catherine Delahaye / Getty Images
Another day, another COVID variant. While we all know about Delta and Omicron, the latter of which has been surging in the United States and leading to several thousand deaths a day across the country, as Omicron cases begin to recede in some states, many might be worried about what comes next in terms of variants pushing on the COVID-19 pandemic.
Now, Omicron's little brother, Omicron BA.2, nicknamed stealth Omicron, has begun to be identified across the country. And researchers are concerned it might pack a punch. But how does BA.2 differ from the original BA.1? Is it more dangerous, more transmissible, or better at evading vaccines? Here's what we do — and don't — know about Omicron BA.2, AKA Omicron 2.0.
What Is Stealth Omicron?
Omicron BA.2 was first discovered back in November. Since its initial discovery, the variant has spread to 49 countries, including the U.S.
There are many ways this new guy on the block is like BA.1. Like regular Omicron, BA.2 contains 28 different mutations from the original coronavirus, but many of them are different from the mutations Omicron BA.1 has. These mutations affect the spike proteins, the part of the virus targeted by vaccines. Like with Omicron BA.1, this means that vaccinations might not prevent infection by Omicron as effectively as they did against other variants.
The nickname "stealth Omicron" doesn't mean that this variant is particularly insidious. The moniker came about because BA.2 doesn't show a particular spike on PCR testing like Omicron BA.1 does, so it's not as easy to track its spread. That doesn't mean that you're more likely to test negative if you're infected with BA.2, just that it looks more like non-Omicron variants on initial tests. It's not an entirely new variant, though — it has enough similarities to BA.1 that researchers have dubbed it a subvariant of Omicron.
Is Omicron BA.2 Worse than Omicron BA.1?
When it was first discovered, scientists thought that BA.2 didn't have the same "get up and go" as BA.1. But as the BA.1 surge is beginning to settle down, researchers are seeing a spike in the number of BA.2 infections around the world. Data collected from COVID surges in Denmark, England, and Germany indicate that BA.2 is a bit more transmissible than its busy older brother Omicron BA.1.
Though Omicron BA.2 appears to be more contagious than Omicron BA.1, preliminary research finds that it's not as debilitating as earlier variants like Delta. And BA.2 seems to be no more dangerous to individuals than BA.1.
"Scientists [in Denmark] have found that there was no increased risk in going to the hospital if you have BA.2 compared to if you have BA.1," Dr. Peter Chin-Hong of the University of California San Francisco told NPR. "That could change, but that's what we know so far." Like BA.1, then, the danger in BA.2 will likely be in the deleterious and damaging effects it can have on the public health system — making it a systemic danger rather than one of the individual.
However, details about the transmissibility and severity of Omicron BA.2 are still up in the air because it's still the early days of this variant.
Is BA.2 in the U.S.?
Omicron BA.2 has been found in at least three U.S. states: Texas, California, and Washington. Scientists expect the variant to spread throughout the country over the next month. Omicron infections currently make up 99% of COVID hospitalizations in the U.S.
Will Vaccines Work Against BA.2?
While much has been made about Omicron infecting vaccinated individuals, preliminary research from England suggests that a third vaccine may bolster immunity against both Omicron variants — BA.1 and BA.2. The findings indicate that a booster dose can reduce symptomatic infection by 60% to 70%.
Vaccines may lessen the severity of the infection or even render infection invisible, but that means vaccinated individuals may be infected with Omicron BA.2 without knowing, increasing the risk of transmission to others. Masks and other COVID protocols are still the first lines of defense, even if you've had your booster.