Olympic Kayak Medalist Used a Condom To Fix Her Boat — But There's a Twist
Give her a gold medal in ingenuity.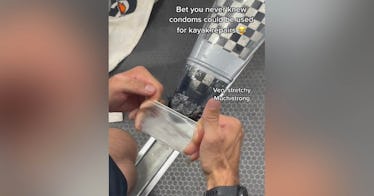 Condoms are a fantastic form of protection, but an Olympic kayaker showed that they can protect against a lot more than unwanted pregnancies.
Jess Fox, an Australian kayaker competing at the Tokyo 2021 Olympics, showed how an Olympic village condom can be used to effectively repair holes in kayaks in an Instagram video.
"Bet you never knew condoms could be used for kayak repairs," the text in the video read.
But what may be surprising is that the condom isn't actually used as the patch in the hole in the kayak itself. In the video, you see a kayak that has a hole in the front and the Australian team manages to fix that hole with some carbon mixture and a condom. First, you put on the carbon mixture, and then, according to the video, you put the condom over it because "it gives the carbon a smooth finish." Interesting, right?
And the kayak is as good as new! And her resourcefulness paid off, as she ended up winning a gold medal in the canoe slalom and a bronze in the kayak slalom.
The sexual escapades of the Olympic Village are as legendary as the games themselves at this point. Athletes have been given condoms since 1988 to ensure that what happens in the Olympic Village stays in the Olympic Village. And over time, the condom supply has had to increase to meet the demand. While just over 8,000 condoms were distributed in 1988, by 2016, that number had reportedly ballooned to 450,000.
But this year, condoms might primarily be used to fix kayaks due to the ongoing COVID pandemic. There have been reports that Olympic organizers are only giving condoms to athletes once they are set to leave the Tokyo games in order to discourage any Olympic Village hookups. Athletes are also only allowed to drink alcohol in their rooms alone for the same reason.
Of course, it could be argued that this abstinence-only approach will only curb the amount of safe sex had, instead of sex in general, but at least we know that the condoms aren't totally going to waste thanks to Fox's kayak repair ingenuity. And whether or not this kayak-fixing-hack ends up ever being relevant to you, at least you'll always know that half a million condoms have been distributed to Earth's greatest athletes.
This article was originally published on