Two Olympian High-Jumpers Shared a Gold Medal. It Rocks
"He's one of my best friends. Not only on the track but outside of the track."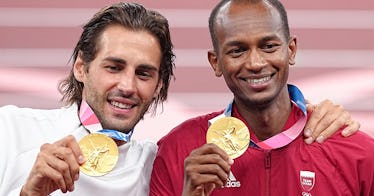 GETTY
What's better than one Olympic gold medal? Two Olympic gold medals, and a pure celebration of the enduring power of friendship. And that's what we all got to see during the men's high jump final in the Tokyo 2021 Olympics.
Mutaz Essa Barshim of Qatar and Gianmarco Tamberi of Italy, who are real-life buddies that trained together before the games, could not best each other in the final. They had a nearly identical final jump. It seemed like Barshim had won gold when the official let them know that they both had reached 7 feet, 8 inches.
"They spoke to me," the official explained. "It's too tight. We can continue with the jump-off.
"Can we have two gold?" Barshim asked the official.
"It's possible," the official said. "It depends if you decide…"
The reigning world champion cut the official off, as he needed no time to decide what to do and let Tamberi know they would both be getting gold medals.
"History, my friend," he told Tamberi. "It's over."
The two then broke out into ecstatic celebration, with Tamberi jumping up and down while Barshim went over to celebrate with his family.
"I hope you're enjoying these images," the announcer said. "If you ever question what athletics means to people, watch this."
The two kept their friendship goals going during their coronation on the podium, as they shared a massive hug with even more massive smiles on their faces. Tamberi said the experience was "magical" and that "sharing with a friend is even more beautiful." Barshim agreed, telling reporters that he could not have been happier to win a gold medal with one of his best friends.
"He's one of my best friends. Not only on the track but outside of the track," Barshim concluded. "We're always together almost. True spirit, sportsmen spirit, coming here and delivering this message."