Keep Your Kid's Scalp Lice Free With This Helpful Tracker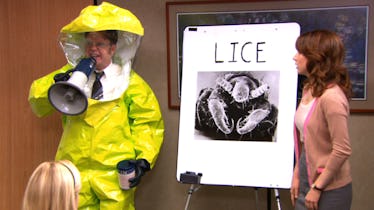 A new study published in the Journal of Medical Entomology found that head lice in 42 out of the 48 states surveyed have become resistant to most over-the-counter treatments. While that may make you want to shave your kid's head preemptively, the good people at Nix developed the Lice Tracker to help parents prevent such infestations instead. It's kind of like the Domino's Pizza Tracker, only it will make you lose your appetite.
By entering your zip code into the Lice Tracker, you can view you and your kid's risk based on 4 datasets: lice product sales, google trend searches, local lice reports, and reports by school nurses. You can also sort your results based on individual data sources (if you trust nurses more than that damn google machine) and report outbreaks in your area, because "if you see something, say something" applies to those little scalp suckers.
Depending on where you live, this might be much worse news than pizza, but it's still a handy tool. Not only will it give you a lay of the land where you reside, but it will let you know your risk wherever you're traveling this summer. Disney World has a medium risk (so you may not be getting out of that trip), whereas Los Angeles has a medium to high risk, and New York City has a relatively low risk. Even for head lice, the rent is just too damn high there.
Want tips, tricks, and advice that you'll actually use? Click here to sign up for our email.
This article was originally published on