Nick Kroll's "Sexy Dad" Wisdom Is Useless, But Hilarious
What is it with these sexy dad acronyms?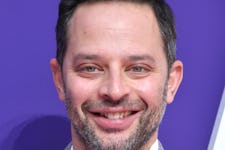 Variety/Penske Media/Getty Images
Nick Kroll was a guest on The Late Show with Stephen Colbert to promote his new show, History of the World, Part II, now streaming on Hulu, when the topic of fatherhood came up. Kroll is a dad to one little boy, and Colbert has three kids, so it makes sense for the two to talk about being dads. But in true Kroll fashion, when Colbert asked about his parenting style, the interview went delightfully off the rails. And it's hilarious.
Sitting down with Colbert for the March 7 episode, Kroll talked about being a dad, raising his two-year-old son with his wife, Lily Kwong. In addition, Kroll shared a story of practicing for his character, Schmuck Mudman, in History of the World, Part II, and what happened when his son overheard him.
"Schmuck is a real coward, so I was like, 'I'm a coward,'" he said in the voice of Schmuck. "And my two-year-old just sitting there when all of the sudden I just hear from the corner of the room, he goes, 'I'm a coward.'"
"I was like, I don't know if that's the legacy I want to leave," Kroll joked. "Daddy's a coward."
From there, the conversation pivoted with Colbert asking Kroll about his parenting style, which is apparently "sexy dad."
"I'm a DILF, you're a DILF," Kroll explained before Colbert cut in to say he sees himself more as a "Zaddy" than a DILF. And this sparked a whole conversation on acronyms.
"You're somewhat well known for your Catholicism," Kroll said to Colbert, "so I'm gonna call you a 'caddy' if that's OK."
When that acronym didn't fit, they tried out 'CILF,' then Colbert gave Kroll the name 'JILF,' as he is Jewish, and then Kroll optimized that to an NP JILF, meaning a nonpracticing Jewish dad.
After the giggles about that, Colbert and Kroll refocused and got back on being a sexy dad, agreeing both fit that title.
You can watch the full, delightfully weird interview on YouTube.